Off Roading 4x4
4x4 Home > Off Road > Off Roading 4x4 Off Roading 4x4

Real Life Off Road Adventures
Off Roading 4x4 brings to you really amazing off road driving stories with pictures of modified 4x4 vehicles in their "natural territory".
Each 4x4 off road driving trip is a source of new knowledge for me and you - and I hope the articles are a pleasure for your eyes and an inspiration to your mind!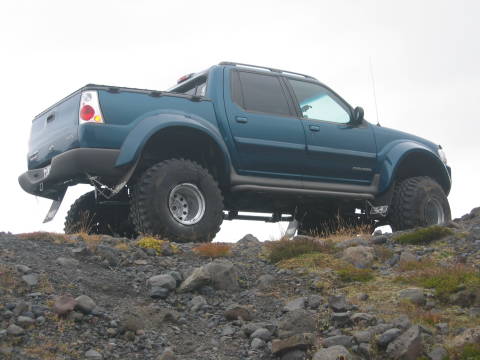 4 wheeling can be fun but it can also be dangerous. It has its challenges and the adventure and experience can last a LONG time

From easy dirt or gravel roads to the most challenging areas you can imagine. From deep river crossing to the higher mountains. A 4x4 truck is sure to have tried driving there!
4x4 Off Road Adventure Articles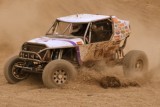 Ultra 4 at the Badlands - Attack of the Multiple Terrains!
Ultra 4 racers are gearing up for the Badlands Off-Road Event happening June 28-30 in Attica, Indiana. The race course's terrain is so varied and challenging that one trick ponys need not apply.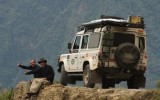 Bolivian Death Road - How to handle Kari-Kari the evil spirit!
South America has been an off roader's paradise ever since the first 4x4s crossed what would become the Panamerican. Bolivia in particular, has one of the most impressive and deadly road on the face of the planet: the Carretera de la Muerte or Death Road.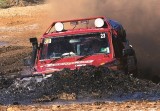 Navigating Deep Water Crossings
(and Going from a Tadpole to a Shark) - The rainy season is at hand and Jeepers are more likely to encounter running water, deeper rivers, and treacherous puddles. It's also approaching summertime when children are taking to pools, lakes and beaches learning to swim.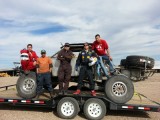 Minority Racers Race the SCORE BAJA 250
Mexican American underdog racers unite to take on the SCORE Baja 2013 Season and represent the folks of Michoacan & Guanajuato Mexico, Norway and Laredo, Texas.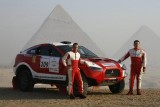 Pharaon's Rally 2012
Last month the Pharaon's Rally took place. We've reported on the competition in the previous years as well, but this time we had actual friends competing so the interest and expectancy were much higher.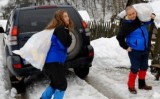 Humanitarian Action - Off Road Adventure Romania Christmas 2012
Off Road Adventure Romania has been delivering packages with food and clothes in isolated villages for the holidays, for more than a decade. One week before both Christmas and Easter, the trucks gather and together we choose a destination where people need a chance for the better, and we head their way.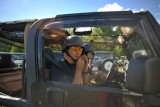 Discovery Off Road Trial
By now everyone knows the hit show "One car too far" on the documentary channel. Those two guys take everything about off road and make it easy to be understood and put into practice, dealing with real life situations that the regular off roader would encounter.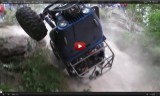 10 Insane Off-Road Moments
Off-roading in a seriously capable 4x4 can be as manly an endeavour as eating a cow raw, but when it all goes wrong it'll make any testosterone-fuelled man re-adjust his underwear. Sit back and enjoy the 10 most insane off road moments.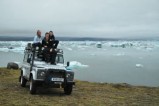 Glacier in Greenhouse
Extreme off-road expedition in a Land Rover. Glacier in a Greenhouse is a student-led expedition from Durham University, and the recipient of this year's Land Rover 'Go Beyond' bursary, awarded by the Royal Geographical Society (with IBG).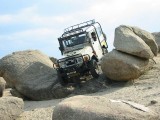 African IT Lessons - Offroad Expeditions
Meet Luis Lopes, a 48-year old IT specialist. Apart from his three decade experience in all things IT, he also sports a long time off road hobby – participating in trials and expedition throughout Portugal, Spain, Morocco, Tunisia and Libya, to name but a few.)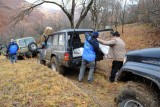 Christmas Humanitarian Action 2011
Off Road Adventure Romania has been delivering packages with food and clothes in isolated villages for the holidays, for more than a decade. One week before both Christmas and Easter, the trucks gather and together we choose a destination where people need a chance for the better, and we head their way.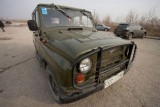 Southern Caucasus Adventure: Armenia - Part II
We didn't know what to expect when we reached the Armenian border. Crossing into Georgia had been very relaxed, with everything going smoothly and having no problem speaking English. Armenia was a little different...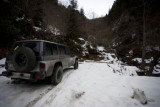 Southern Caucasus Adventure: Georgia - Part I
I asked a gentleman, a while back, why does he travel. Why is it that the lifestyle suits him so, that he chose to abandon the comfort of the social, in favor of a nomad lifestyle? It took him a while to answer, but he did so promptly, without hesitation...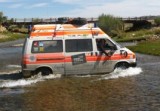 Mongol Rally Ambulance
I have a few dreams. Ok, maybe that's an understatement. I have loads of dreams, but some are bigger than others. One of the really big ones is to participate in the Mongol Rally. This is a one-of-a-kind event. It's not off road, it's not on road, it's in a class of its own.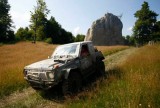 Castrol Extreme Adventure
The month of July brought with it a large number of off road events, in the Carpathians. To be noted, among these, are the Transilvania Adventure Trophy, now in it's 10th edition and the Castrol Extreme Adventure a week later.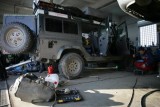 4x4: Basic Maintenance
Although hard and heavy, even off road trucks need care, every now and again. Long periods of use in mud, sand and water can damage the bodywork, as well as the integrity of the engine components.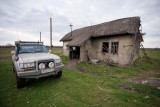 Off Road Adventure Romania
Through our time offroading in various places, it is still rather rare that we manage to reach places of real isolation - the kind that we read about in magazines or hear about over the radio or TV. But every once in a while, a chance arises to visit such a remote location and, more than that, to help the locals in time of need.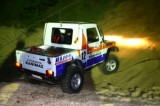 Are offroad parks the future?
More and more countries on the Old Continent are starting to raise eyebrows when it comes to roaming around in the truck. Countries such as Austria and Switzerland prize their nature so much that off roading is becoming an extinct form of fun. Not only that people who drive off road trucks are being met with a quantity of reticence, but the areas where they are allowed to drive are becoming smaller and smaller.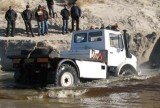 Beach Tour Offroad Lokken
The ferry goes 8am, we are in Kr.Sand in south Norway, ready for this year's big 4x4 happening. We have counted down to this date for the last three months. Beach Tour Lokken, maybe northern Europe's biggest offroad event. Here we come.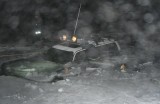 4x4 SUV Underwater Rescue
Gunnar Juliusson and his big 6x6 Dodge Ram know the Icelandic highlands and wintertrips more than many. At around 10pm on a Saturday night 5th February he got a help request from a group travelling over Kjolur, a highland crossing road usually not passable at this time of the year.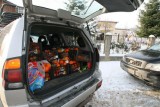 Christmas Humanitarian Action - Club 4x4 Romania
The end of the year is always an opportunity for new and exciting off road tracks in the snow. But unlike most off roaders, some clubs think of more than their own pleasure when going out. This was the case of Club 4x4 Romania which decided to deliver aids and gifts to 50 families in need, just before Christmas.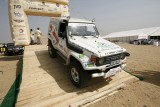 The Pharaons Rally
More than 140 teams from all around the globe lined up to the starting line for the 2010 edition of one of the most spectacular rally raid events of the year - the final stage in the FIA World cup and the FIM World Championship - the infamaous Pharaons Rally.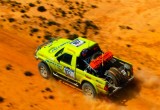 Australasian Safari - The Dakar Down Under
We've all gotten pretty comfortable with the idea that we live on a big planet, with lots of spaces and places left to explore and challenge the senses with. We know the size, length, diameter and even weight of our planet. We know everything yet, when put face to face with the great outdoors, there's always this "Well I knew it was big but - this is colossal!".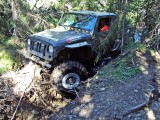 Over The Transylvanian Hills
Now in it's ninth edition, the Cluj Cup, organized by the Transsylvania Off Road Club, has become a sort of a tradition. Although the new edition has been renamed into the "Transsylvania Off Road Challenge", the spirit has stayed the same.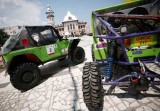 Castrol Extreme Adventure
Summer represents a lot of things for a lot of people. But for Eastern European motorsport lovers, summer brings with it one of the most difficult all class competitions available. Since it's become a tradition already, the Castrol Extreme Adventure (previously known as the Romanian Extreme Adventure) takes place in the most Eastern part of the Carpathian Mountains, in the Romanian county of Buzau.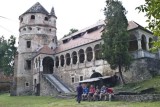 Off Road Adventure Medieval Transylvania
The idea of owning a 4x4 has always been to reach the unreachable and get to where no car has gone before. But here, the sport of the off road is divided in two separate areas: those who go off roading for the drive and those who use the cars to get somewhere.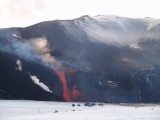 Lavafalls Eyjafjallajokull
After the volcano eruption expedition it is clear we have to make a second trip. By now the eruption has been going on for more than a week and the lava has started flowing. The authorities have banned the use of the shortest route, but we can go over the Myrdalsjokull glacier.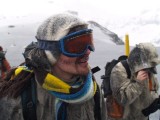 Volcano Eruption Expedition
The volcano Eyjafjallajokull has just begun to erupt. Early next morning, we are heading for an expedition to see it. Looking towards the mountain it looks like we can see two eruption clouds and by the color of the sky we can see that ash is already 2 km up.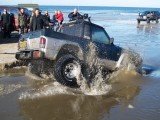 Denmark 4x4 Beach Tour
Lokken in Denmark is usually a quiet town on the seaside with small friendly houses and even friendlier boats. The long beach is popular for walking and bicycling. One weekend in March that all changes when hundreds of off roaders from the Nordic countries gather for some 4x4 beach fun.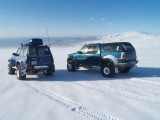 Offroading Myrdalsjokull
The area around Myrdalsjokull ice-cap is one of my favorites. And I think you will agree after reading about our newest offroading tour. Stunning landscape far away from the stressful city life. Gudmundur and his brother Dagur arranged the trip as a mixed 4x4 and snowmobile tour.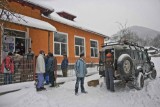 Transylvania Adventure Club Christmas
Like every year, the organization team of the Transylvania Adventure Trophy sets out to bring joy and happiness to those less fortunate of ours. The Transylvania Adventure Christmas 2009 brought with it a little bit of change with regards to the target audience, if you will.
Kazakhstan Offroad
You're at work. Closed in your office, just after finishing off something you had to do and allow yourself to drift away for a minute. It's the same dream you've had a thousand times: it's morning and the car is ready to go. You check the list of supplies for the road one last time, to make sure everything's in.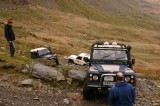 Off Road UK
I've copied a write up onto here from a trip I ran a while ago to give you some idea of the opportunities available in the UK. I've altered some words and phases to make them more understandable for the way we speak locally.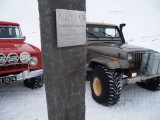 Journey to the Center of Iceland
A few years ago someone on the Icelandic 4x4 club forum asked the simple question "Where is the center of Iceland?" This turned into discussions about methods to calculate the exact point and finally the National Land Survey of Iceland was consulted. Using the coastline in the database and their software to locate the center.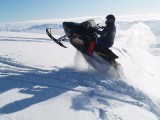 Snowmobile Track
Can you imagine riding a powerful snowmobile? Well - after today's ride I got a great feeling for it! My friend Ragnar Robertsson just bought a 800 cc Lynx Rave RC snowmobile. Of course he needed a to take it out for a spin.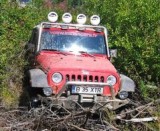 Romanian Off Road School
The off road fever has kept a lot of people merely dreaming about owning a car that they can feel safe and happy going on the mountains and in mud with. But now, a bigger Europe, cheaper second hand cars and a lot of companies that create gear for equipping such a truck have created a favorable series of circumstances for off road lovers all over the continent.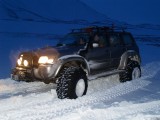 Cold Valley Offroad
Finally my first off roading tour for the new year! Kaldidalur (Cold Valley) is a popular shortcut to get to Langjokull icecap. It is a little travelled high land road in the summer and even less during the winter when it has a big IMPASSABLE sign.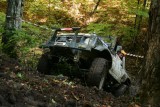 Toyota Iasi Adventure Raid 2008
The stage before last from the Romanian Off Road Championship took place last month, close to the town of Targul Neamt. The categories of the competition were Auto Open, Extreme as well as Moto and Quad.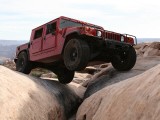 Moab with the Hummer Club 2008
The landscape in Moab, Utah U.S.A. looks like what you might imagine the surface of Mars looks like, featuring red-rock cliffs, arches and jutting formations that have been impossibly carved out by water over time. Despite the label "slick rock", the sandstone rock surface that lies under foot and tire provides a remarkably good grip...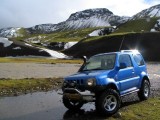 Offroading a Suzuki Jimny in Iceland
Fred from the south of Netherlands is interested both in offroading as well as Iceland. He sent me a story about his Jimny and a tour to Iceland. Fred took some awesome pictures...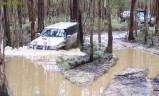 Mt. Disappointment - Australia
Michael had a great trip to Mt. Disappointment last weekend. It was eventful and fun. Numerous deep bog holes had them in and out of the vehicles checking the depth. Most, although deep, had firm bases and didn't present to much difficulty.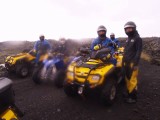 ATV Tour Iceland
During the Iceland Adventure 2008 tour we were offered to try real ATV riding. The ATV 4x4 company offers tours from half an hour up to several days. This is the first time I have really got excited about ATV riding!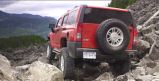 Tread Lightly! & Hummer Grant-Giving
General Motor's HUMMER division and the nonprofit organization Tread Lightly! announced today the launch of a new partnership called HUMMER's Recreation Rescue, which will provide grants to outdoor recreation sites. The grants will be dedicated towards land use education, management and trail maintenance.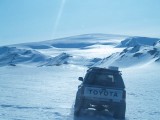 OffRoading Three Ice-Caps
We just made a really good off roading tour. Starting up from Thingvellir and heading north towards Langjokull ice-cap. The weather is as good as it can be with clear sky and a light northerly breeze. We can't help but stop to enjoy the mountain view and of course to take pictures.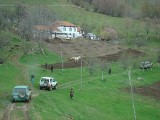 Easter Off Road Adventure
Easter Month brings nothing but surprises for everyone. This year, Off Road Adventure Romania chose to go in a number of isolated villages in the county of Banat, Romania.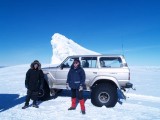 4 Wheeling the Volcano
The day seems perfect for a full day of active 4 wheeling. Not a cloud in the sky and we are heading towards Eyjafjallajokull the volcano.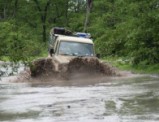 Rainy season "fun in the mud"
During December/January 2007 my colleagues and I at I Dream Africa Safaris, had enough of providing exciting 4x4 tours for our clients and needed some dirt time for us selves. Our tour was split in two parts, the first being Dammaraland and Kaokoland in the north west of our country, being Namibia and the second leg being the Okavango Delta in Botswana.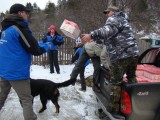 Off Road Adventure Romania - Christmas
Perhaps one of the most unique attributes of the off road spirit is that of helping each other, on and off the tracks, whether it's giving a sprocket or a knob to another contestant or people around us who have been disadvantaged, who live in remote areas of the country and have no access to food, water or phone lines.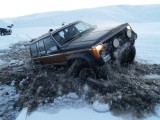 Off Road - Newbie Tour
Going on a newbie tour is usually great fun. Drivers with varying skill levels heading off road to face unknown challenges. In this early winter tour we are heading to a small hut north of Myrdalsjokull called Strutur. The day is bright with light northerly wind.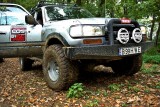 Canon Off Road Experience
It's late autumn in Romania. Each and every evening brings a veil of fog across the fields. Harvest is well on it's way in the sass village of Biertani, in the middle of Transylvania. A perfect opportunity to combine photography and 4 wheeling.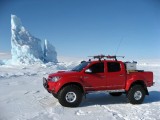 Magnetic North Pole OffRoad
BBC's television show Top Gear, approached Toyota GB with the idea of undertaking the Challenge in a car, something never before attempted. Because of its proven toughness the Toyota Hilux was chosen for the job. They planned to pit the car in a race against the tried and tested method of getting around in the Arctic - dog sled.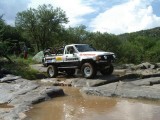 South African Hi-Lux
Yes I call it a truck because my wife drives a small Nissan 1400 bakkie and both vehicle's park next to each other in the garage and her bakkie looks so small, anyway to give a brief history of this vehicle, I bought it from a guy in Delmas which is near Springs in The Transvaal a few years back, maybe three.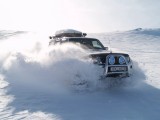 Off Road - First Day of Summer
Sometimes we think the "first day of summer" is celebrated a few weeks too early in Iceland - but there it is...
Actually it looks like it will be a great day for wheeling. Snow is now only up in the highlands and melting fast.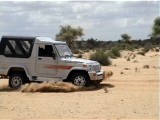 4x4 Self Drive Raid Maharaja
4x4 jeep tours are aimed at achieving the thrills of adventure combined with sight seeing of places of natural beauty and tranquility. You could ride through the Mighty Himalayas, enjoy a Desert rendezvous or embark on a Coastal odyssey...

Kverkfjoll OffRoad
Today we are heading for a fresh offroad tour to Kverkfjoll mountains and the area north of the great ice-cap Vatnajokull. Weather forecast has not been too optimistic.

4x4 Tindfjallajokull
Finally a great opportunity to go off roading. Weather forecast looks promising with the wind coming from north. Going out to taste some snow and fresh air!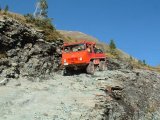 4x4 Driving Tips
Driving tips acquired from 20 years giving 4X4 tours.
Hi, my name is Clay and yes this summer was my 20th year of giving 4X4 tours in the San Juan Mountains of south western Colorado.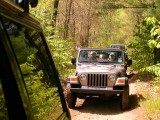 2006 Jeep Trail Ride
This is a trail ride that was put on by a local Jeep dealership to help raise money for a new extension of one of our local hospitals. As it turned out, there were 3 trails to choose from.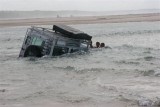 Local Knowledge - Mozambique 2005
"No - Land Rovers can't swim!"
Read the story by Stuart Scully from South Africa.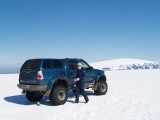 Offroad Eiriksjokull
Primary purpose of going offroad is often to experience nature close up. Whether it is taking a hike or going skiing or mountain biking.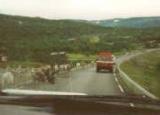 Norway Discovery - MacGyver part II
The Norway discovery part two as promised. I hope you'll enjoy the sequel just as we do, a few years after.

Norway Discovery - MacGyver
Dear reader(s), I would like to share with you one of my 4X4 experiences and explain why our friends feel that going on holiday with us is always an adventure and the destination a question mark.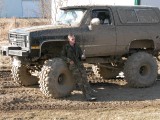 Coldwater at it's best
Finishing up all the final touches from the last adventure improving the beast try to have no flaws on the 30min walk in to the camp ya right you built the truck to here it work the sound of a chevy big block...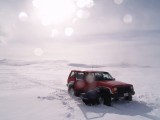 4x4 Jeep Tour
Strange as it may sound - April 21st traditionally marks the beginning of summer in Iceland. The day is however getting much longer and therefore better for longer tours.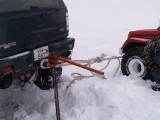 OffRoad Trip Trouble
Sometimes a simple day tour turns into a challenging stream of minor and major troubles. This trip is a true trouble trip. Lots and lots of 4x4 trucks are heading out of town.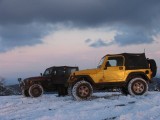 GWNF Night Run
Loc Pham from MD tells us about an adventure night run trip to FlagPole Knob on March 25, 2006.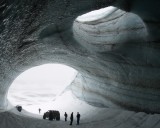 Ice Caves in Langjokull
Oli has just upgraded his Explorer with a brand new set of 44 inch Dick Cepec Fun Country tires. A trip to Langjokull with the goal of seeing the ice caves sounds like a pretty good idea.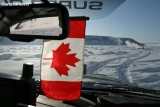 Arctic Trails - Northern Canada
A brand new expedition with modern equipment is organized to show how to travel in the harsh climate of the north the Icelandic way.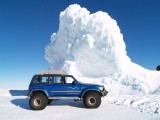 Eyjafjallajokull Day Trip
On a clear a beautiful day makes it naturally easy to take the trucks out and go for a ride. Eyjafjallajokull is a great place to visit if the weather is good.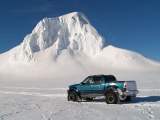 Vatnajokull Big Trip
The first big wheeling trip of the year is on. 10 trucks heading for Grimsfjall in Vatnajokull. Weather forecast is promising even though it is unusually warm for the time of year. Three days of true adventure!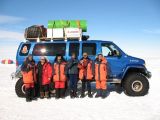 South Pole Expedition
Making new world record by overland travel to the South Pole is a huge and expensive task. Getting stuff to the South Pole is difficult. Most things are brought in by air. Read the whole story with pictures.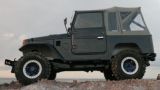 4x4 Indonesia
In 2004, I decided to rebuild my car, since it had almost become scrap. It's difficult to rebuild, since we are in Batam and do not have a workshop to do that.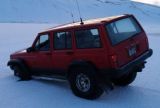 4x4 Hekla Route
Going wheeling at this time of year in Iceland means you have to seize the day. Daylight is limited to a few hours and the weather is constantly changing.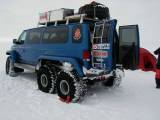 South Pole World Record
Ice Challenger team with Gunnar Egilsson and Jason De Carteret and other team members have set a new world record for overland journey to the South Pole.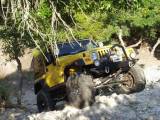 YO Ranch Texas Wheeling Weekend
The Historic Y.O. Ranch, located in the splendid Texas Hill Country just outside of Mountain Home, played host to the Y.O. Wheeling Weekend.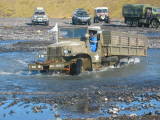 Old Army Trucks
Many old army trucks are surprisingly still going strong. Trucks as old as 1943 models are still here and running. One would imagine they are great museum pieces not good for anything much.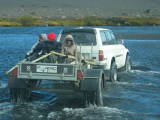 4x4 Sticking Tracks 2005
Sticking 4x4 tracks is a continuous task. Sticks fall down or break and new ones have to be put in place. A track with sticks on makes it safer - especially for winter conditions when snow is covering the ground.

4x4 Sunday Test Drive
As you can imagine - trying out the Sport Trac and taking it for a real test drive in the highlands has been high on my list of things to do.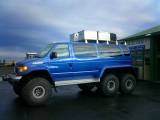 South Pole 6x6 Ice Challenger
The mission is simply to drive an automobile from the icy shore to the South Pole in as short time as possible.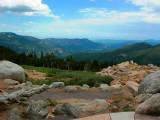 Mt. Evans Colorado
Great way to climb a 14er while in Colorado! Highest paved road in the US. Can drive most of the way to the top. Great views! Close to Denver!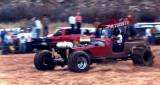 Canadian River Sand Drags
This long time traditional event is now under severe scrutiny. Generations of people have come to recreate at the Canadian river just north of Amarillo; with motorized vehicles of every conceivable configuration.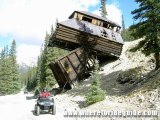 4x4 ATV Exploring America
Exploring America on an ATV can never be dull or boring. I remember the first time I rode an ATV. It was an experience that will never be forgotten.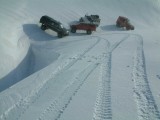 On slippery slope
Winter travel on ice and snow can bring some dangerous slippery slopes in your way. Here is the story where both passengers and trucks are lucky to escape.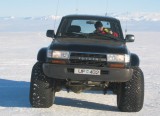 4x4 Hofsjokull Ice Cap
We start out Friday afternoon and take our last stop in civilization in a small country gas-station. Daylight is soon gone but there is quite a stretch left to the huts at Kerlingarfjoll where we will be spending the night.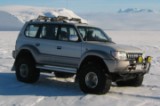 4x4 Snow and Ice - Hofsjokull - Langjokull
A preparation and overview trip has been set for the weekend. The plan is to drive over Hofsjokull ice-cap the same route that will be used in two weeks time.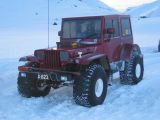 4x4 Snow Pictures - Around Skjaldbreidur
Snow comes and a trip to the closest volcano is on schedule. After spending the holidays eating and meeting with the family everyone is anxious to seize the day!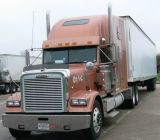 4x4 On Road in USA
Like I had planned I took a trip to fetch the Sport Track I bought. I flew in from Iceland through Minneapolis and then to Denver Colorado.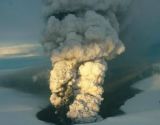 Volcano Eruption Picture
A trip on air and ice to observe an eruption in one of the most active volcanic areas. Volcano eruption is quite common in the Grimsvotn area.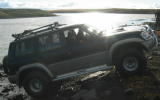 Sticking a 4x4 Track
In the Icelandic highlands are many less traveled tracks and roads. Sticking is in the hands of those that use them. Some great 4x4 off road pictures from the tour.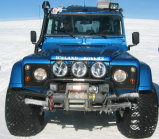 Glacier Picture
Heading for Vatnajokull, the largest ice-cap in Europe. Starting out for a three day journey and the weather is a bit wet and foggy.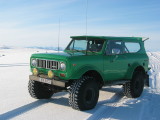 The 4x4 Rookie Trip
An eventful 4x4 rookie trip to Setur, Hofsjokull and Budara. It even made the local news!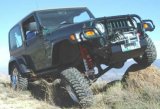 South Africa Tour
Modified Jeep Wrangler TJ 2000. The story of the modifications and a tour in South Africa. From Simon Morris and Ronnie Rengers.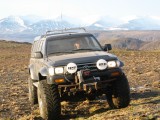 4x4 Off Road Pictures from A Trip to Mount Esja
A story with pictures of a 4x4 trip to the top of Mt. Esja.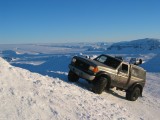 An off-road trip to Skjaldbreidur and Langjokull
Me and Einar Kjartansson took a trip in beautiful clear but cold weather to some mountains and ice-caps in Iceland.
To stay in touch and receive notice of all the best articles please remember to sign up for the 4x4 Newsletter.
When you are finished reading these articles and enjoying the pictures you might like to download some of the best and use as your desktop background. Here you can get some great off road 4x4 wallpaper.
4x4 Off Road Driving Adventure Pictures and Stories
I am always looking for some interesting off road pictures and stories from you.
When you send me your pictures, please include a description of the modifications and other things that might be of interest.
The off road driving adventure travel pictures should be of modified 4x4 vehicles being used off roads.
The pictures should also include travel stories. When you send in a story please tell me where it takes place and if there where any exciting events along the way!
Please submit your 4x4 off road driving adventure article with your story and pictures.

By Thrandur Arnthorsson
Thrandur is the chief-editor and owner of 4x4 Off Roads and an 4x4 off road enthusiast. Living in Iceland he loves to share the coolest 4x4 trucks and supporting more offroad freedom.
Thrandur is the author of the free ebook How to lift your 4x4 truck!.
Comments
comments