1990 Chevrolet Suburban 46"
1990 Chevrolet Suburban 46" Claws with only 8" of lift.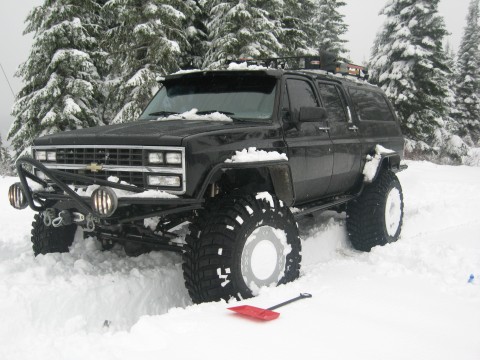 Dyna-Trac Dana 60 rear w/Detroit. Teraflex high pinion CRD design Dana 60 front w/ARB and Longfield CV style 300M "Super Axles" with 4:88 gears. Both axles are custom 6 lug built specifically for this truck. Cross over steering with AGR hydraulic ram and Howe pump w/remote reservoir. TBI 454 c.i. w/ceramic coated Thorely headers, electric fans, dual Yellow Top Optimas, Painless wiring w/relays. Custom 700R4 w/stock NP241 transfer case. Front Warn 15000 winch and rear Warn 9500, both cab operated (if needed). Viar compressor with remote tank. Wilwood 6 piston 14" disc brakes on all corners. 46" Mickey Thompson Baja Claws on Stazworks 20x16 (16 being the width) double beadlock wheels. Sway-A-Way Race Runner reservoir shocks and hydraulic bump stops. 45 gallon fuel tank. Line-X on entire inside of truck as well as lower sections of body. Lower exo-skeleton front to rear provides strength as well as forms flares needed to cover tires. Skid plates, additional cross members and custom traction bar with driveline hoops. Powder coated Conferr roof rack with rear and side facing lights. Off road lights as well as LED rock lights underneath. Lowrance Globalmap 540C Baja GPS, 40 channel CB w/250 watt booster etc.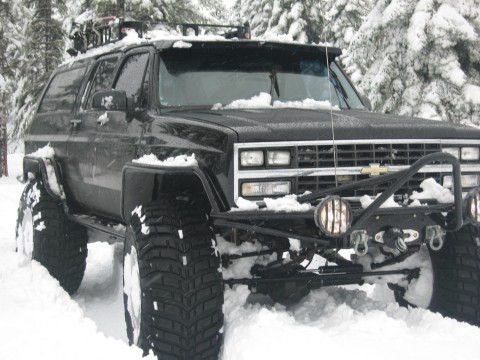 Most of my trips are in the Cascade mountain range in southern Washington State. I do almost all of my wheeling trips in the winter so snow is all this truck really sees. In fact it has developed over the years into quite a capable mountain rig. The snow here in the Cascades has a tendency to get very deep as the season progresses. It is not unusual to "float" on top of 5 to 6 feet of snow on forest roads at or above 4000 feet. The roads tend to be wide and are bordered by 100 foot tall fir trees. On a clear day from the top of the mountains you can see for miles, viewing other distant peaks as you plan ahead for next weeks outing into the unknown. However, those are definitely not my favorite days; I love a good old fashion blizzard. Wind howling down the peaks with impressive force and then gusting even stronger. Snow falling at a rate of 6" an hour that covers your tracks so fast that the rigs behind me have to ca ll up on the CB to see which way I went at the crossroads because my tracks have already filled with new snow. It's really the challenge that drives me; not knowing if I'll be sleeping in my soft bed at home or in the not so soft sleeping bag in the back of the Suburban. This rig is equipped to handle the roughest terrain the Cascades can dish out, and gets used hard each snow season.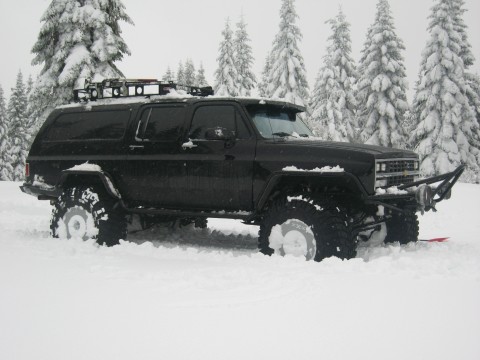 Thrandur, thanks for a great website, I've enjoyed it for sometime now. The trucks I have seen on your site have inspired me on more than one occasion. You have a great way of writing about your trips, and unlike me, you get a lot of great pictures.
Todd Kasma
United States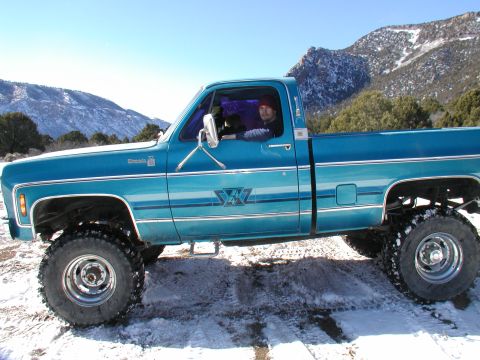 Chevrolet is the Heartbeat of America
Is One Chevy Never Enough? Some of the sweetest 4x4 Chevy trucks from all over. Chevrolet's origins can be traced to trucks first made in 1947. It was only later that 4 wheel drive was introduced in a Chevy. Popular models for offroading include ...
Comments
comments