2001 Dodge Ram 2500 - 5.9L Cummins turbo diesel
5.9L Cummins turbo diesel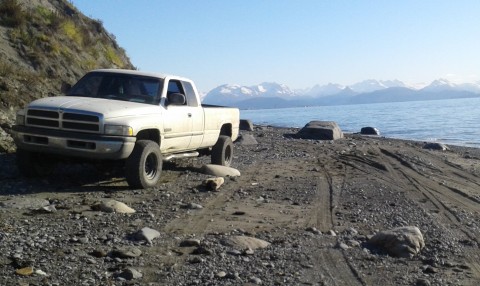 I have a 2001 Dodge Ram 2500 (5.9L Cummins turbo diesel).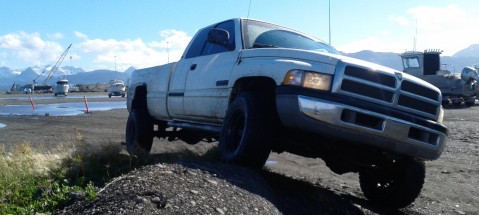 Tell us about yourself and your love of 4x4 and off roading
I'll be driving down the road and every time I see an ATV trail, I get this bug that makes me want to take my truck just to see how far it goes and weither Betsy (my truck) can make it all the way back or not.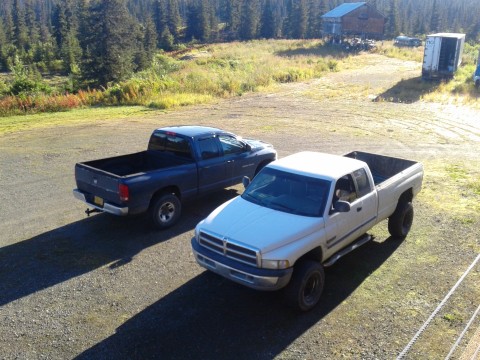 What modifications have you done for your 4x4 and what are your future plans?
Other than the 33x12.5r16.5 BFG all terrain KO's on aftermarked offset steel 16.5's, no real modifications. back end has the tow package so it sits quite a bit higher in the back than the front.
Want to add another 3-5" lift to the front to even it out and maybe fit bigger tires later (37's to 40's 12.5" or more wide). A set of Dick Cepek crushers to add effect to the skull deals that will also be on it in the future.
New front bumper and a 12k winch for the times I get Betsy stuck a little too deep in the mud. As far as power, I want to get her up from the stock 245hp to more like 450-500.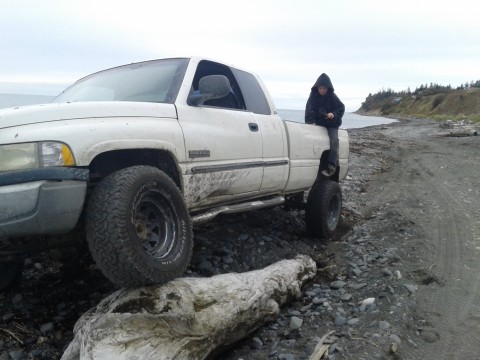 What is most challenging when lifting your 4x4 truck?
Havent given it a lift as of yet. Got a 3" leveling kit I want for the front and add another 2-3" by lifting the body. Main plain is a every day driver that can boldly go where no daily driver has gone before kindof thing. Pardon the Star Trek motto parody.

Where do you go wheeling and what is the terrain like?
Hit a couple different trails that are more 4 wheeler trails than anything. High grass and spruce tree bundles throughout the 4 wheel trails. Go to the beach quite a bit too. Mostly wash rock and dark sand with some quite large rocks from debri that has fallen from the costal cliffs anywhere from 100-250 feet high of shear drop. High tide only allows anywhere from 5-40 feet of beach above water to low tide showing anywhere from 45 feet to a quarter mile distance from shore to surf.
Low tide is a great time for either beach style off roading or some rock crawling on a mostly flat area where lots of large stones.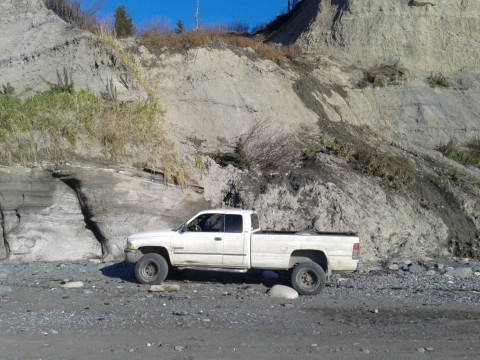 Other info you would like to share
I remember my days as a child when the family was still able to afford 4 wheelers and snow machines, and how I would love to even go off by myself and just head down a trail hoping to get lost from everything else. I credit much of these experiences to my love for taking my truck and taking a trail just to see where it went and how far I could go. Even the boys like to take the trips with me. Had a couple scary situations, but all in all they still enjoy taking the truck off the main road.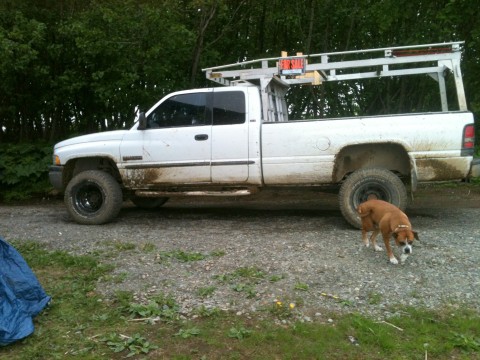 Kris
Homer, AK
Comments
comments
For more check out: