The Biggest Street Legal 4x4 [Iron Revenge]
Some things just look good big. Trucks are some of them. They stand for something. And Glen Harris' team took it upon themselves to build the  largest street legal 4x4 truck and restore faith in the belief that the dreams of huge road rigs still can look good. We caught up with him and got this awesome interview on a dream come true: the Iron Revenge.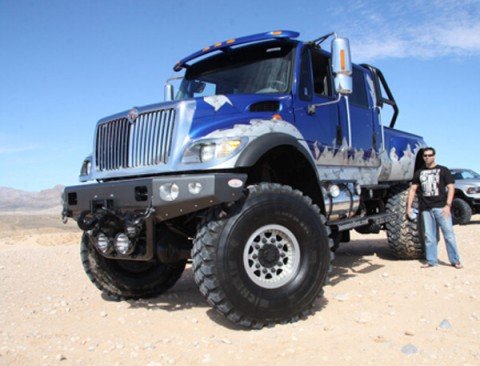 Iron Revenge - the Biggest Street Legal 4x4
Who came with the idea of the truck?
International came up with the idea for the truck and then I (Glenn Harris) had the idea to make it bigger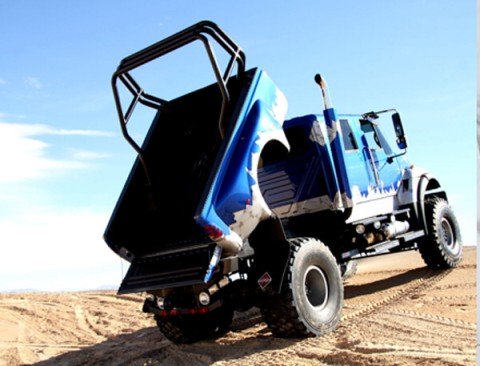 When was the project begun?
The initial idea came about mid 2008. mulled it over for nearly a year while researching and then about a year to do the work.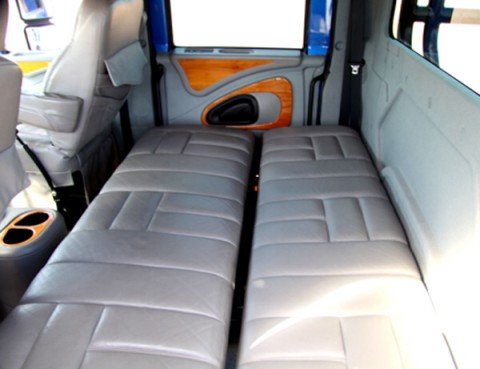 How many people have worked on it? Is it a company (Monstermotorsports as i understand)? What do they do, except Iron Revenge?
I certainly had help but it was mostly myself in my driveway and carport. I lived in Japan at the time so it was intermittent. Yes I had help from fabricators i.e. suspension lift by Chuck Davis, metal fabrication by S and L metals Orlando and L and C Metal, Powdercoat was done by Powder tech Orlando and Matt Pennington of Mattsounds did the wiring. I pretty much designed and installed all of the components and would make things as they became needed. The wheels were done by a friend of mine and he was supposed to take 2 months. It took him more than 8 months so I wont mention his name. Yes we are still speaking.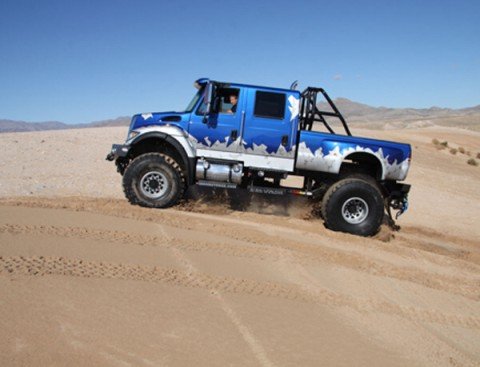 I'd like to know about the truck. I understand it's an CXT but i guess the tires are bigger, the engine is uprated. What has been modified on the truck and what are it's specs now?
Fortunately the engine was powerful enough to begin with so at this point it is a stock DT466 with only 310 HP and over 1000 foot pounds of torque. The tires in the front are 53" high by 16" wide and the rear are 54.5" high by 24" wide. Wheels are 20" front and 21" rear. I do have plans to increase HP to 600 but it is purely for the sake of making articles more exciting. The HP is almost useless as the Allison transmission cant handle much more than 400HP. so it is kind of unnecessary. At this point the truck can go anywhere that I would want to take it and it can reverse out of just about anything it cant go forward through. I am interested in longevity of the truck and few repairs. I like dependability and this being a truck built for travel and shows I must be able to depend on it.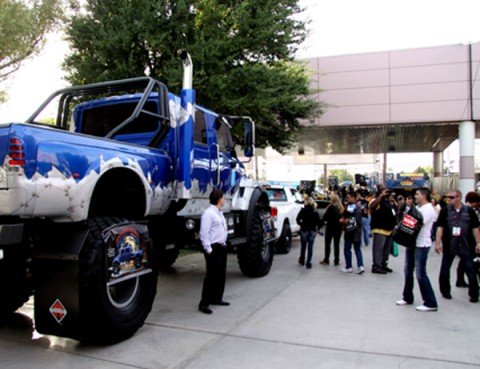 I saw the truck has an interesting Logo/Quote. What does it stand for - "The return of the truck, the strength of America"?
I am really interested in showing people that great things are still made in America and I hope to inspire people of all ages to start domestic businesses and build great things here in America. That is my primary goal with this truck. It is truly one of the last great things made in America and I hope that doesn't ring true for long.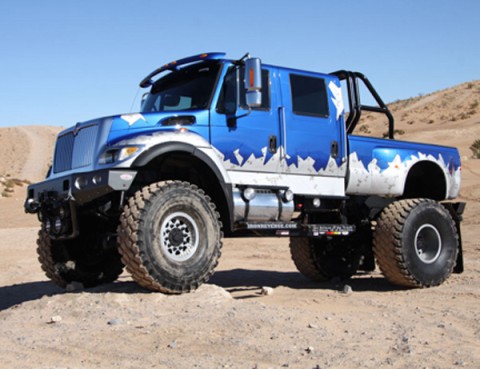 I understand it's a show truck. What do you plan to get out of it? Will the "World's biggest street legal 4x4" name be awarded by the Guinness Book of Records, or is it a name that was assigned to it?
Well I would like to make a living showing the truck and hope to do that with sponsor support and paid appearances as well as developing things the truck can sell or endorse. I have had extensive communication with Guinness and they are reluctant to give the "street legal" record to it as it is limiting and as they point out there may be countries where anything could be street legal or where this may not be. In any event we both think (me and Guinness) it is just a case of semantics and they do agree that they have seen nothing bigger on the street (legally) so we need to work on the exact description or category and I will spend time on that issue as soon as I get the truck to work on a full time basis. For now I have done research for almost 3 years and have seen nothing bigger on the street that is actually legal.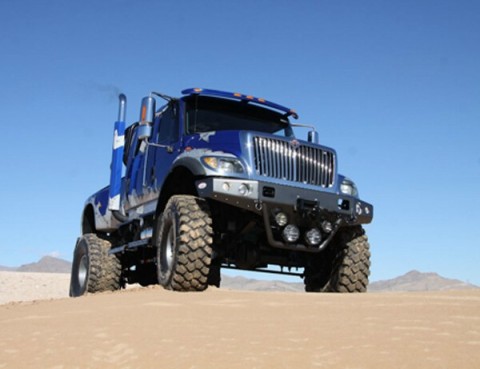 Being a show truck and all, i am not sure it'll see a lot of the open road, will it? When i saw it first, i had one thought: "What's the mileage on that beast?"
Well mileage is surprisingly good for a vehicle of this size at around 8.5 MPG and we will see additional equipment and mods (i.e. module and hydrogen system) to make it better. It drives surprisingly well and is very nimble with power everything. I drove it coast to coast (Orlando to LA) two times in 2010 with ease and no incident and on the open road it can easily drive with cruise control at speeds over 80MPH. I am careful about speed limits but for example Texas is 80MPH so I had to set with cruise control at 83 and did that for 975 miles. I also drive very carefully and am not weaving in and out of traffic or riding up on someones butt. I give extreme consideration to others and understand every time I start it how important it is to be careful and polite.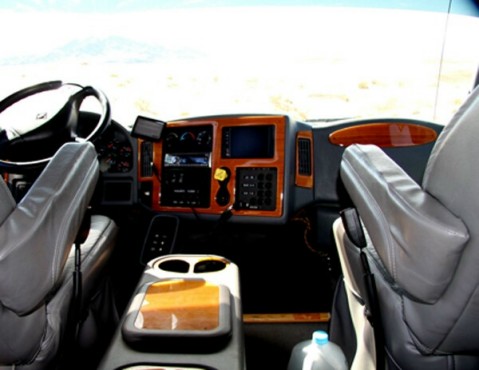 What were the public reactions for the truck?
The truck is really a hit everywhere it goes and it seems there is no demographic as every race, age and sex likes it. Of course men and boys are the biggest fans but it seems that girls and women of all ages like it too. It makes people smile and that makes it fun. I am also a good host and stop for just about every camera and open the doors to all that are interested. The truck makes a big impact and I want it to always be positive.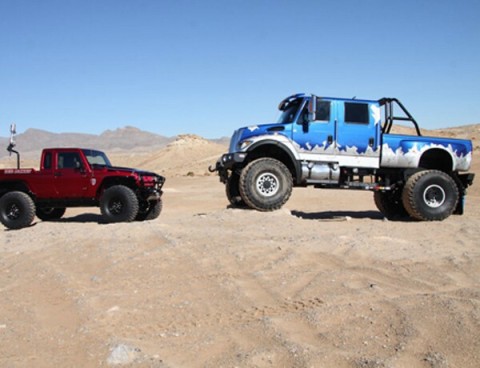 Seeing how it is in itself an icon, will it be involved in charity events in the US? If so, where, when and how?
Just ask and if the truck can be there it will.
Comments
comments