My Dodge W200 / M880 1977 Project
Old army truck restored!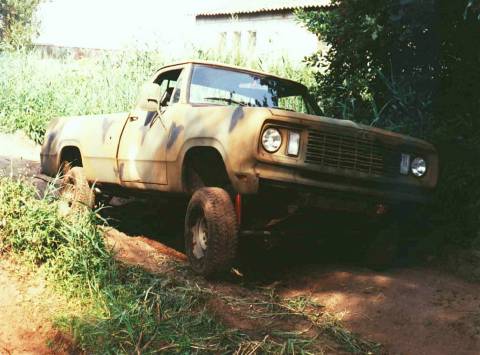 My Dodge W200
Back in 1995, I bought this M880 truck from a merchant. The trucks this man sold, were all former U.S. army material. "M880" is the military designation of a 1977 Dodge W200.
Truck originally was a radio truck, so the bed was never used "hard" and the rest also seemed to be in 95% rust-free condition. She was equipped with the next specifications:
- Chrysler 318 cubic inch engine (5.2 liters)
- Torqueflite 727 automatic transmission
- New Process 2-speed transfer case (full-time 4x4)
- Leaf springs all around
- Dana 44 solid front axle (1:4.09 gearing)
- Dana 60 solid rear axle (full-floating, 1:10 gearing)
- Front disc brakes
- Rear drum brakes
First things I have done to the truck were to exchange all lubricants in every part and fully grease-up all necessary parts. Then I bought a workshop manual to provide the necessary information about maintenance and repair.
With the truck in this condition, I drove it around for about six months before the first "upgrade" was made.
This first upgrade was a suspension lift of 4" with new front springs and rear blocks.
At that time this was sufficient.
After that, some smaller upgrades were made, like:
- Bucket seats instead of couch
- Stainless steel fuel tank
- Stainless steel exhaust system with headers
- Rear cross member for pintlehook
But in the first four years I have been driving her around, the necessity for a complete restoration became more evident.
So I started looking for a good place to do this and luckily, after one year, I found one.
Not long after that she was completely stripped-down.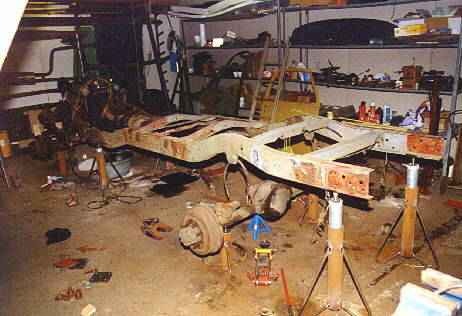 Now I could start working on all the ideas I had collected over the last five years.
First was an improved rear suspension. Still with the reliable leaf springs, but without the rear lift blocks. New springs were made and both the front- and rear spring hangers were removed. Old front hanger became the new rear spring hanger so the shackle would be inverted. New front spring hanger was made from scratch.
Front hanger: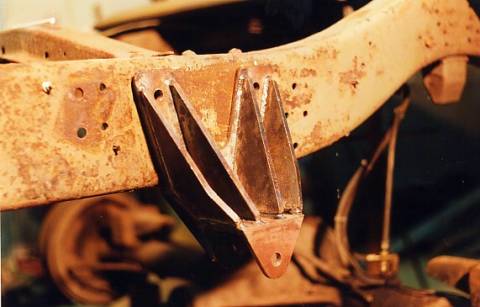 Rear hanger: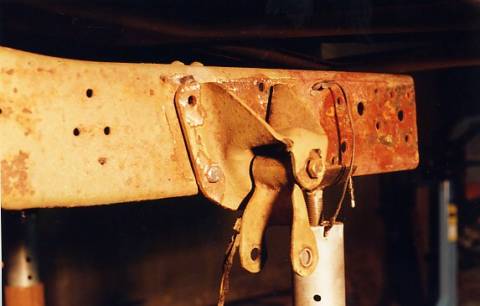 Result was a total lift of 2" from original, but original lift block (3") could be removed as well.
Front suspension received new leaf springs with 2" of lift plus new extended shackles.
Then the rear axle.
During several off-road trips, problems with the rear drum brakes were becoming pretty normal. Drums caught a lot of mud; this dried-out during the trip home, resulting in a brake system filled with concrete. Friends with a similar truck had to renew rear brake shoes as much as twice a year!
So I "needed" discs in the rear.
I designed a custom system with as much standard parts as possible. This for easy repairs. Therefore I used the same calipers, discs and brackets as on her front axle.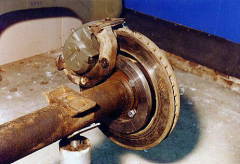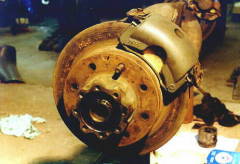 With this new system, no parking brake (E-brake) was available anymore (front brakes usually do not have this option). So I made a set-up for a parking brake at the rear of the transfer case.
This is a standard rear caliper from a Peugeot, which is hydraulically operated with an additional mechanical system. Disc and caliper bracket were custom made.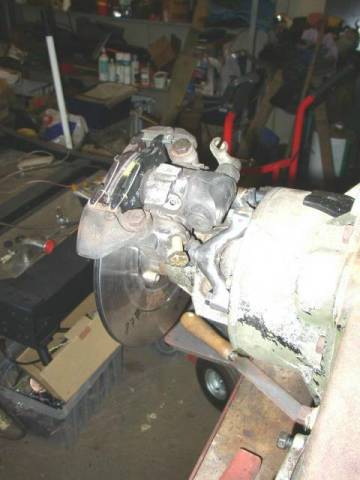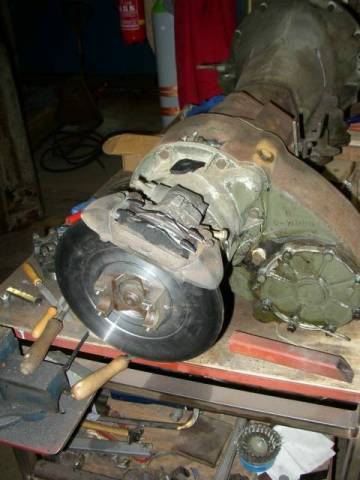 Next on my list was the basically "incorrect" set-up of the driveline components.
Dodge did not really follow the mechanical rules for the alignment of the drive train components.
Short explanation. For a drive shaft to work properly there are some point that must be taken care of:
- yokes must be "in phase"
- angles of the yokes must be the same front and rear
- in case of a "constant velocity" joint, the opposite yoke must be straight (180°)
So far Dodge did O.K., but did not consider the possibility that the truck's front springs would sag over the years. Also, this system does not work when the truck is (suspension) lifted. Result then is that the front drive shaft front yoke (the opposite one of the constant velocity joint) is now not straight anymore. This causes extra vibrations (added wear in the joints) and harmonic vibrations (added wear in all drive train bearings and a noticeable vibration for the driver). The more the truck is lifted, the bigger the problems.
So I started from scratch with my truck. Next steps were followed to obtain the most simple and yet, in my opinion anyway, best set-up:
- engine/transmission/transfer case were leveled (horizontal; were originally angled backwards 12")
- front and rear axle were leveled (pinion axis horizontal)
- constant velocity joint in front drive shaft was eliminated
Leveling engine/transmission/transfer case was done by lowering the front engine mounts with 30 mm. and lifting the rear transmission mount with 70 mm. Lifting the rear of the transmission was done by making a new cross member for the transmission with a lift of 70 mm. from original. Extra benefit: her belly went up with 70 mm. as well, gaining room during off-roading.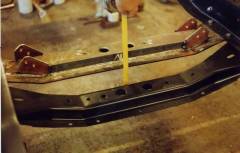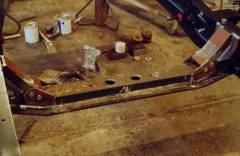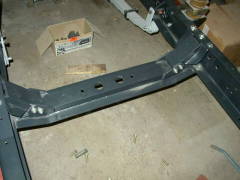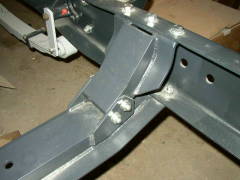 Front axle was leveled with a set of new leaf springs; rear eyelets on top of the leaf instead of underneath plus a set of extended rear shackles.
Result was that the front axle was turned just enough to be within the tolerance of the drive shaft-yoke angles and did not exceed the tolerances in the steering geometry. This to obtain the correct steering stability.
Rear axle already received a completely different set-up with new springs, front- and rear hangers but also received a longer shackle for smoother operation. Result was that the spring perches needed to be repositioned for the correct pinion angle.
A new front drive shaft will be made as soon as all parts are in position so that the definitive dimensions can be taken. This time with normal joints at both ends.
Previously, I made a rear cross member for the standard pintlehook. This cross member came out a little too heavy, drastically disturbing the frame's flexibility. But I just want the frame to flex, as this is an addition to the suspension flex and can be very helpful off-road.
So I "needed" another rear cross member.
For this cross member, I exchanged the old cross member with pintlehook for a Ringfeder trailer coupling.
As this is a 4 tons coupling, I also needed a sufficient cross member, so I started designing again.
After a few hours of grinding, drilling and welding, a new cross member was born.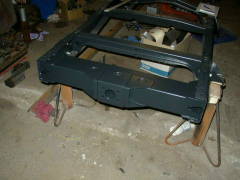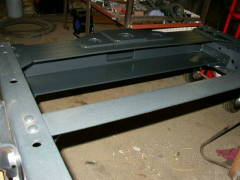 And the Ringfeder could be put in place.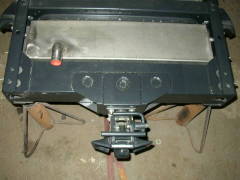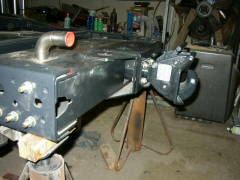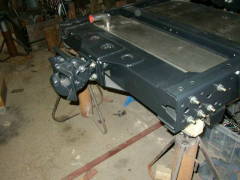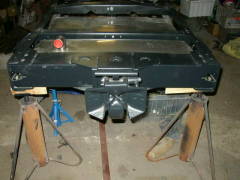 Another big issue a friend of mine and myself came up with was that the car flexed a lot during off-roading; especially at the frame. This was a good thing. Only problem was that, because the cab was attached at four corners to the frame, this was preventing her to flex to the max.
Other negative point was that this flexing resulted in a lot of stress for the cab's welds and seams. At one point when she was flexed-up to the max, I was able to open the door only with a lot of force, but could not close it anymore until I drove her on to level ground.
So I started brainstorming and came up with a flexible set up; two solid mounts at the front of the cab and a pivoting point at the rear. Same at the front of her nose; here also a semi-pivoting point.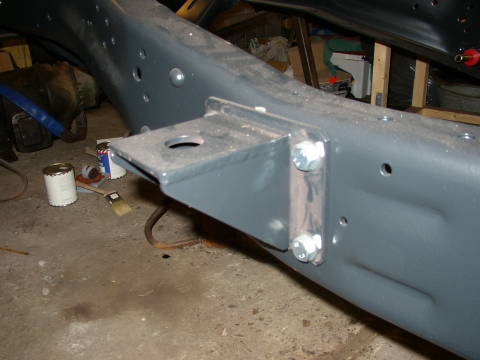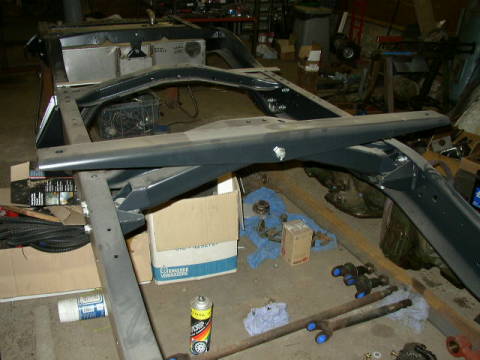 The new bed will also be placed in a similar way: one front and one rear pivot and two fixed points in the middle.
Way before this restoration, I already installed a new stainless steel fuel tank.
This was because I was not happy with the original tank's position (midway to the left) as its position disturbed her stability. So I made a new one because the original would not fit in the spot I had in view. I chose stainless steel for durability. Bottom was reinforced to withstand off-road abuse.
New place was at the rear of the car. This also to get a better weight distribution, as I drive the car most of the time with no load in the bed.
Again to get maximum flex out of the car, this tank was suspended at three points; two "solid", one pivot.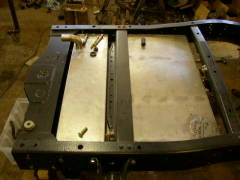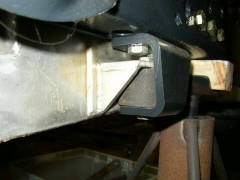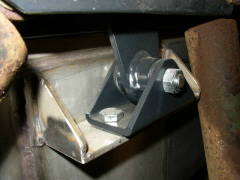 So after these big changes were done, the frame could be blasted and painted.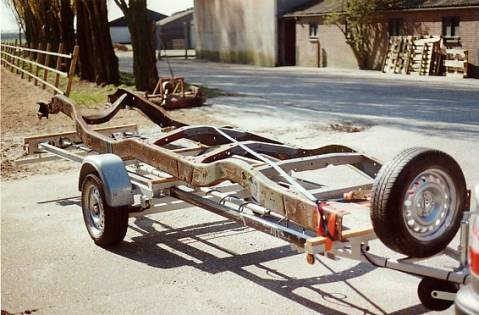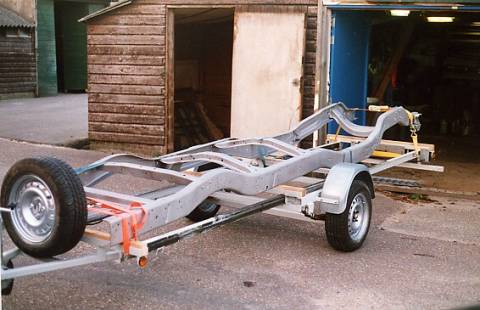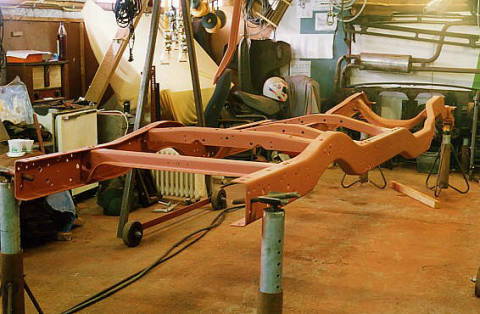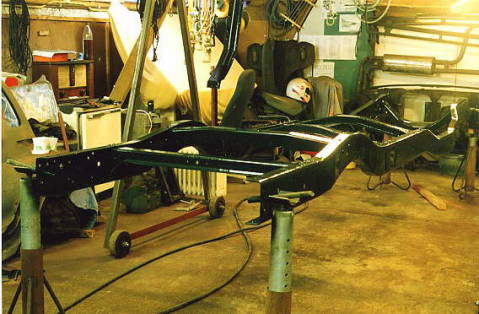 So now it is time to build her up again.
At this time, the axles are almost finished and I move on to the engine, transmission and transfer case.
The cab and all the sheet metal work is now at a specialist as I'm not that experienced with this kind of work. As I bought her, I thought that she was about 95% rust free, but this was not quite true. See some more pictures.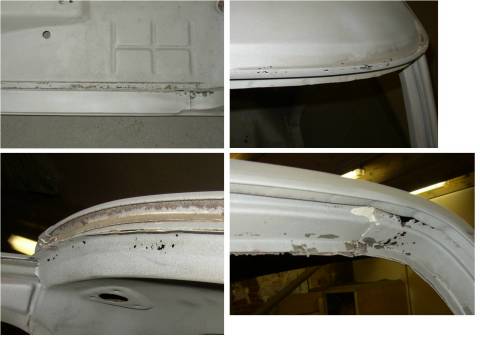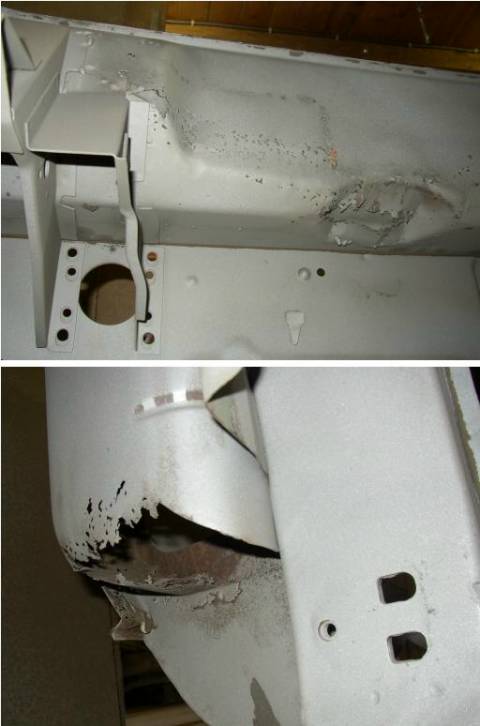 So they started work and, of course, changed some things in the process.
Like: lift the tunnel for more transmission clearance, lower the seat floor to make room for suspended seats etc.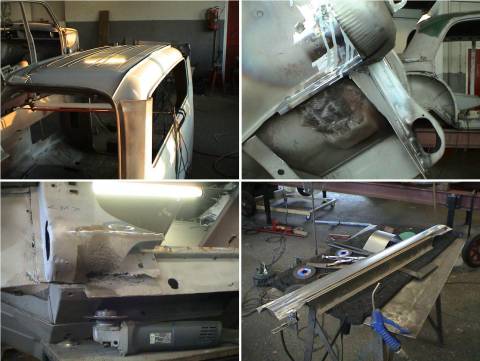 And the result after several weeks of hard work.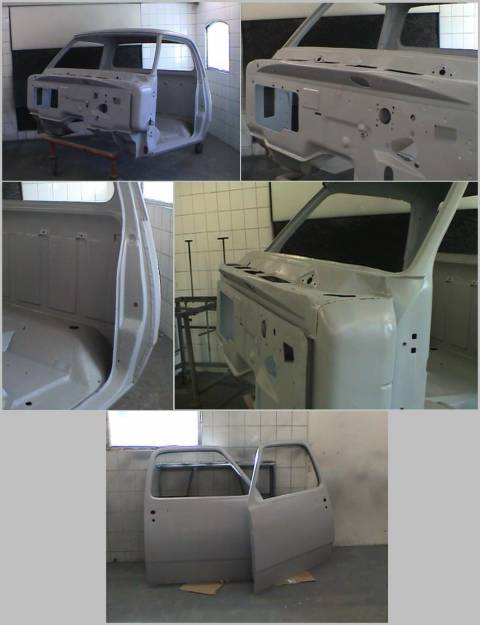 Things that remain to be done, next to the standard restoration work are:
- some small upgrades to the engine as better camshaft and other intake manifold plus bigger carburetor
- shift improver kit for transmission
- additional oil cooler for transmission
- custom new bed
- etcetera
Gerhart
Netherlands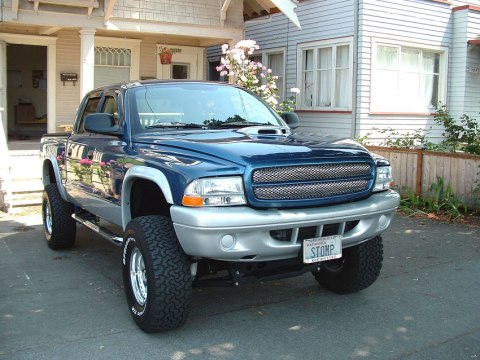 Grab life by the horns!
Dodge started early making light pickup trucks. In 1946 it made the first 4x4 truck and later the popular Power Wagon. Dodge is is best known for trucks like the Dakota and Ram and Ramcharger. Dodge has since continued a strong line of trucks and also moved into lu ...
Comments
comments