Original Jeep Willys
by Thrandur
(Reykjavik, Iceland)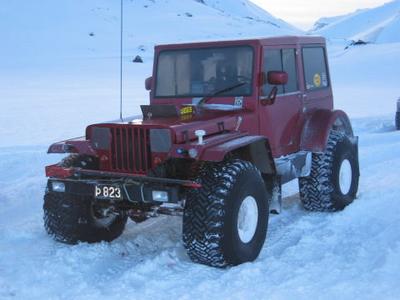 Old Jeep Willys with modifications
The original Jeep was produced by Willys Overland for the US army during WWII. Its light weight along with durability and four wheel drive allowed it to be used for some impressive off road situations.
Right after the war the Jeeps remained in the countries they where used in. In Iceland, like many other places, they became extremely popular and due to the weather, got added solid shelter for the driver and passengers made of wood.
After all these years the Jeep has kept true to its origins and the newest models are still true descendants to the original.
I think the Jeep is one of the best 4x4s ever. What do you think?
Comments for Original Jeep Willys
Dec 10, 2011
es el mejor vehiculo del mundoo!!!
by: McRod
para mi es el mejor 4x4 del mundo tiene facha, tiene estilo, es el mejor!!!
---
Jan 10, 2011
cool and elegant car
by: budi at indonesia
no word can i say except wonderful, exciting,amazing, i love it. my truly imagine car, i want it.
---
Feb 29, 2008
Tires
by: Thrandur
The tires are 44 inch Dick Cepek.
---
Feb 26, 2008
Size
by: Anonymous
What size are the tires?
---
Feb 24, 2008
Muscle machine
by: Anonymous
Awsome piece of modification...
---
Jan 30, 2008
wow
by: Jeeping Joe
Thats what A jeep should look like very nice!!!
Comments
comments