South Pole 6x6 - Ice Challenger
Ice Challenger is a real 6x6 truck fully modified and equipped by IceCool ehf. in Iceland.
South Pole Challenge

The truck - Ice Challenger - will go on board the ferry Smyril Line from Iceland the 7th of September 2005 and will be in Shetland the 9th. From there it will be heading to Antwerp in England. It will be driven to a castle in the Scottish highlands and formally revealed at the Bravehart event.
Bravehart is a kind of a modern highland games where instead of men showing off and competing in strength and resourcefulness we have automobiles, helicopters, airplanes, boats and some other extreme equipment competing and showing off.
Marking the start of a tour around England there can be no doubt that the 6x6 will get lots of attention wherever it goes - hardly the usual vehicle on the streets of London.
Additional equipment will be added to the 6x6 in England. Solar cells will insure a constant supply of electricity. Communications and navigational equipment as well as all traveling gear of the team.
Ice Challenger will be loaded on a ship from England and landing in Buenos Aires in South America in the 12th of November greeted by two of the team members - Gunnar Egilsson and Jason De Carteret.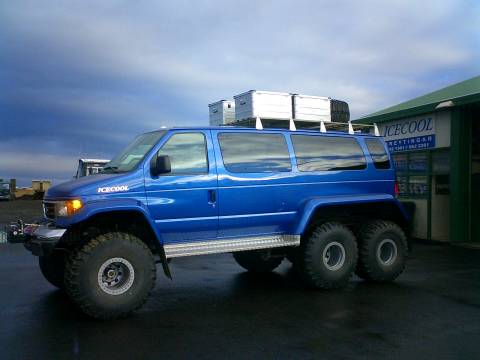 Driving south through Argentina and to Punta Arena in Chile - coming there at around 20th of November - where the rest of the team members will arrive by plane. A total of 6 team members are on the expedition.
In Punta Arena we have a few days to check the equipment and clear all paperwork - quite a lot for a trip like this. The truck will be sterilized and steam washed due to stringent rules about introducing disease or something like that to the un-spoilt Antarctica.
Among the tasks to take care of in Punta Arenas is to replace all fluids and put in some that can handle extremely low temperatures, check all bearings, spike the wheels etc. etc.
Buenos Aires is 3,800 miles directly from the South Pole and 2,350 miles are between the most southerly part of South America, Cape Horn, and the Pole. Cape Horn is the land closest to Antarctica.
Flying from Punta Arena to Patriot Hills in Antarctica is an estimated 7 hours. 26th  November we are booked on a Russian air-freight carrier. Taking the Ice Challenger, team and equipment to Patriot Hills. Patriot Hills is around 100 km (60 miles) from the icy shore. We plan to stay there for two days and using the time to examine areas of cracks and crevices and choose the route to be driven.
Basically there are two routes to choose to get on the higher plateau. This will probably be the hardest part of the trip.
30th November 2005 is the estimated date when the final driving will start for the Pole. 1,200 km. as measured by the map, taking pictures, odometer configured to 0, timer started and the adventure is officially started. Adventure and a challenge that really started long, long before with a single idea and a short telephone call to Iceland.
The mission is simply to drive an automobile from the icy shore to the the South Pole in as short time as possible. We hope to be able to maintain a speed of 15-20 km/h (10-15 mph) anything more will be a bonus. Driving will continue nonstop. Our most optimistic hopes are to reach the Pole at the 3rd of December.
The trip from the South Pole and back to Patriot Hills will be quite different. There will be time to enjoy the view, hauling each other skiing and just play at this unique place, take some pictures and some more pictures, you are not at a place like this everyday. Like somebody said: "How are you planning on spending the way back?" Smiling broadly the team members quickly replied: "We are not going to SPEND it, we are going to ENJOY it".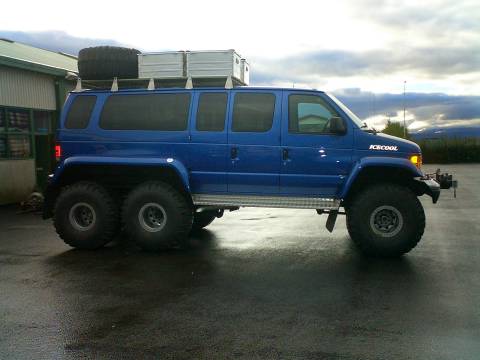 Most team members are booked on a flight back from Patriot Hill the 12th of December. Jason and Gunnar will on the other hand stay longer in Antarctica as will the 6x6 taking passengers to the ice plateau.
Finally at 20th of December the truck, Gunnar and Jason will take a plane to Punta Arenas in Chile and the trip home will begin. Gunnar will hardly be home for Christmas this year, only time will tell, like so many other things that can happen in this journey.
Saeunn Ludviksdottir
Iceland
IceCool.is
Translated by Thrandur Arnthorsson
Technical Info
Ice Challenger is built on the blueprint from the other 6x6 made by Gunnar: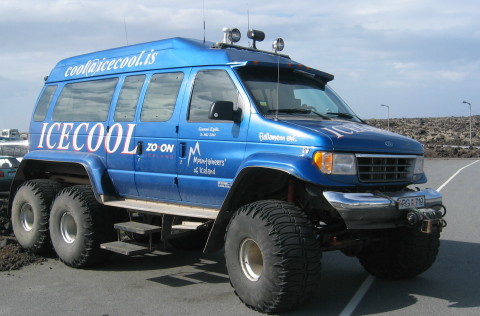 If you need two steps to get up to a truck it is BIG!
Name: IceCool 6X6 Make: Ford Encoline '96, specially modified 1999 by Snaridjan in Selfoss Color: Pearl blue Tires: 6 x 44" Super Swamper. Max. number of passengers: 14 Engine: 7,3 l. power stroke turbo diesel. Horsepower: 215 Axles: 3 x Dana 60" Gear: 4,88 airlock Suspension: Air suspension. Range 40 cm Electric system: By Aukaraf Oil tanks: 420 liters Transfer case: 1356 and aux transfer case (extra low gear) Additional special equipment: GPS Navigational system
CB radio
NMT mobile telephone
5 t. Hydraulic winch
Pioneer CD player, amplifier and a microphone Lights: 2 x 150 w spotlights
2 x 180 w spotlights
1 x 110 w search spotlight Computer Laptop with map
More articles about the South Pole Expedition as well as Ford and other Extreme 4x4s!
Comments
comments