Jeep Cherokees, Jeep Wranglers, Jeep Wrangler RUBICONs - The BEST of the Best !
by Jeff Hall
(Hampton,CT. USA)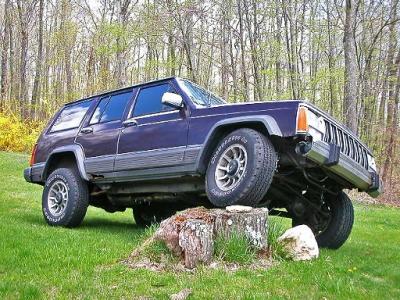 This is my '89 Jeep Cherokee Laredo
Hands down, people. The best 4x4 model out there are the above mentioned models. In stock form, the Jeep is probably the most versatile 4-by on the market. No other manufacturer even comes close as far as drivetrain reliability. In a modified state, the Jeep becomes almost invincible in the most extreme environments. I used to own a 69 Willys Jeep back in high school. Though it was short on looks, it made up for it in off road prowess, tackling the toughest terrains around with ease. After I finished school, I was forced to buy something more reliable. I chose an 87 Ford Ranger. The drivetrain was ok and the transfer case was all electronic. Something I did not really care for. When snowy conditions came up, the brakes were absolutely horrible. Almost to the point of non-working when trying to come to a stop.
Fast forward 18 years later (2005).
After owning at least 3 Fords, and never being happy with 4x4 drivetrains and braking ability, I reverted back to the Jeep. I bought a used '89 Jeep Cherokee Laredo that needed a brake overhaul. Something I could fix on my own. I completely replaced every brake component from front to rear. I also replaced the heating and cooling components, too.
Whenever it snows heavy, the legendary NP203's drivetrain never fails. It pulls me through the deepest snow drifts. THIS is how a REAL transfer case is supposed to work! Everything is non-electric with this set-up. It engages instantly and unlocks just as fast. I like it so much, that I purchased a used '01 Jeep Cherokee Sport in the winter of 2006. It, too, has all the same drivetrain as the '89 and performs just as flawlessly - in any condition.
Not that I'm taking away from the rest of the rigs worldwide, as I'm sure there will be other opinions in this matter, but from my personal experience these are my experiences with these two manufacturers.
Comments for Jeep Cherokees, Jeep Wranglers, Jeep Wrangler RUBICONs - The BEST of the Best !
Dec 25, 2007
PROUD OWNER OF NEW 2007 4DR WRANGLER
by: Bruce Kendall
Only just found your website yesterday and enjoying the content. I am an ex off road motor cyclist due to back injuries and find that the Jeep Wrangler is the closest satisfaction to bike off road riding.
I am trying to find out as much as possible on the Wrangler. I sure I will be changing the tyres and front mudguards for something a little more substantial in the near future. I will wait till my warranty has expired before I do any serious modifications. I see myself having a great future with this seemingly underestimated vehicle here in South Africa.
Thanks to all who have already contributed to this web site.
Bruce Kendall
Johannesburg
Gauteng
South Africa
Comments
comments