VIDEO: Jeep CJ3B
Video: A restored classic flatfender Jeep
In this video I will show you a restored classic flatfender Jeep - the Jeep CJ3B.
The Willys Universal Jeep CJ-3B was first built in the early 1950's and continued for many years and later with licencing by other manufatureres. The CJ 3B had flat front fenders like earlier Jeep models (such as the CJ-2A and CJ-3A). It is easy to see the difference from the earlier models by the high hood. Newer Jeeps have rounded hood and fenders.
Like they said in the original advertising:
"4-WHEEL-DRIVE universal Jeep
World-Famous for Versatiltiy, Ruggedness and Economy."
"The famous Jeep is a many-purpose work-horse - works as a tractor; a pick-up truck; a tow vehicle  -- a vehicle that provides transportation every day in the year. With power take-off, it is a
mobile power unit."
Take a look at this vintage 1953 Willys Jeep CJ3B. It was rebuilt from three jeeps and a lot of  love and care. As you can see it is looking great - almost like factory new. The Jeep is in great
working order and a dream to sit in and drive. The engine is the orginal 72 horsepower F-Head.
Back in the day a number of these were traded in to Iceland from Israel in exchange for fish.
Usually the soft top didn't work well in the Icelandic weather so most Jeeps from this period had custom built cabins.
Now - lets listen to the sweet murmur of the then new F-head "Hurricane" engine - with "MORE POWER AT LESS COST"
---
If you like this Video please share and like and join us at 4x4OffRoad.com!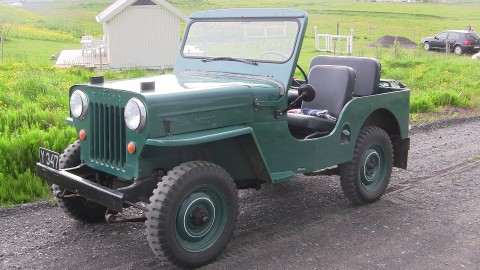 You can watch a high definition version of the Jeep CJ3B video here.
Learn more about the Jeep CJ3B:
http://www.4x4offroads.com/ricks-cj-3B-jeep-home-made.html
http://www.youtube.com/watch?v=E3Z8cccOCKQ
Comments
comments