Jeep Rescue - Search and Rescue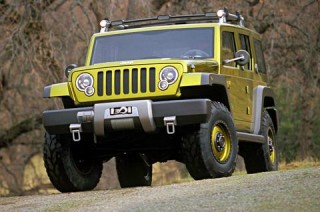 The Jeep Rescue is Jeep capability taken to the extreme, it is uniquely equipped for unequalled search and rescue service"
- Trevor Creed, Senior Vice President, Chrysler Group Design.
The Jeep Rescue Concept marks an exciting new direction!
The Jeep Rescue is clearly a response from Jeep to the success of Hummer and the newer H2. The Jeep Rescue is a descendant of the Wrangler with greatly added off road capabilities and passenger space.
Introduced at the North American International Auto Show in Detroit the Jeep Rescue Concept looks rugged and capable. I hope this is a sign that Jeep is also heading towards LESS comfort and MORE off road usability.
The specifications are not complete but here are my notes on the features as they relate to off road drivability.
Jeep Rescue is a big truck over 2m wide (80") and the wheelbase is 3.12m (123").
It has real large tires of 37" with run flat capability and on-board tire pressure control. The fitting of 44" tires should be fairly simple.
A strong 325 hp Cummins Diesel Engine delivering over 800 Nm (600 foot-pounds) of torque.
Whole front and rear axles.
The front suspension is hydro-pneumatic and the rear suspension is heavy-duty link-coil. An additional 10 cm of lift can be applied when the need arises.
The weight is estimated to be close to 3 tons and that could prove a problem for off-roading.
The Jeep Rescue Concept is equipped with all sorts of nice accessories that would probably be charged for extra in the production version.  Among those are:
Remote control winch - front and back.
AC electric power (10 kW) generation in the field.
3-D topographical mapping software and topographical navigation system.
Under-chassis, point-of-view cameras for avoiding danger in its path.
Passive, infrared (thermal) cameras for search and rescue.
Satellite telephone; VHF radio, digital video recorder with satellite transmission capability.
Retractable 4-point harnesses for vehicle occupants
Exterior perimeter lighting.
White LEV lighting for long distance visual search and reduced power use.
Folding seats in rear compartment of vehicle.
As I said the weight could be a problem. It is about two times heavier than the Ford Bronco Concept. Larger tires, perhaps 44" should be able to solve that.
Another issue is pricing. If the truck is targeted towards rescue units and the military the price could be a bit steep for the average buyer.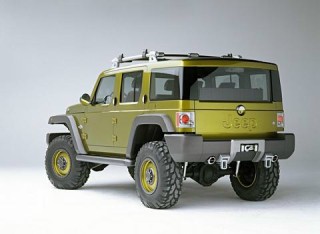 Hopefully we will see the Jeep Rescue in production! If and when it becomes available I intend on taking a better look.
Comments
comments