Jeep, Toyota & Land Rover very good - Chevy & GMC worst
by Jacobo
(Brownsville, TX, USA)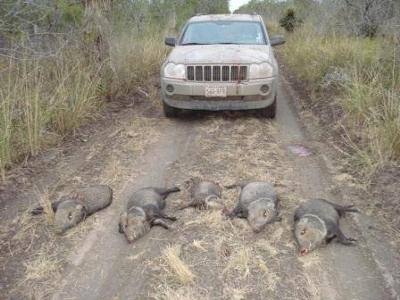 Had:
Silverado HD 2500 4x4 and always got stuck never could get out of anything, GMC same as Chevy.
But had also:
Range Rover: Great 4x4 but always something got screwed and had to call service to come and tow it away. And parts took weeks to come in.
Toyota: Great 4x4 and never had many problems.
Jeep Grand Cherokee: Now were talking and very dependable 4x4, got stuck only on very suoruise things. Never left me on the road. work on farm and just to get to my ranch its a 20 mile of gravel road each way 2 times a day some times. 130 k miles in two years.
LOVE JEEP!
Comments for Jeep, Toyota & Land Rover very good - Chevy & GMC worst
Jun 03, 2011
Good Day Hunting
by: Anonymous
Nice photo of Ferrel Pigs.
We hunt them at my brother place in Winnie, TX.
If you don't, they will destroy everything!!
I now have a 87 Samurai, Excellent Rig!
Have had several Toyota's, Very dependable!!
Had Old style Jeep's, Rust very easily.
Had 1 S-10 Blazer, good utility vehicle, but you are
right, without serious "Mods" they are not an Off Road unit.
CAPT
Comments
comments