BIG Suburban - 49 Inch Tires and Atlas Gears
4x4 Chevy Suburban
Grows bigger on 49 inch tires and Atlas gears!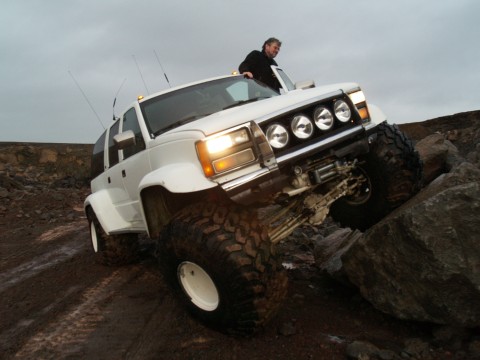 Go Big - Go Suburban - Go Suburban AND fit 49 inch tires! - That's BIG!
Kristjan Kristjansson - Stjani - has done just that. After spending countless hours and days in his garage his 49 inch modified GMC Suburban is now street legal again.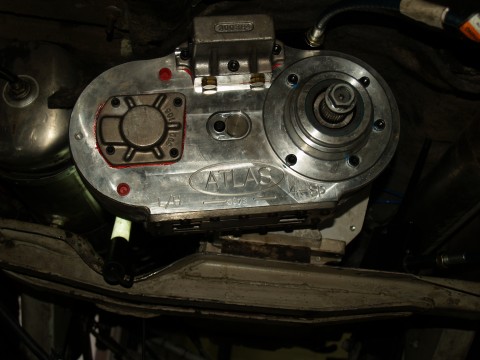 The reason I heard about Stjani's Suburban was that he was having an Atlas transfer case installed. The Atlas box replaces the original transfer case adding two extra low gears. This one has gearing for 2.7:1, 3.8:1 and 10.34:1. If the 10.34 to 1 is not low enough Stjani can engage his extra low gear of 2:1 for a grand total of 20.68 to 1!.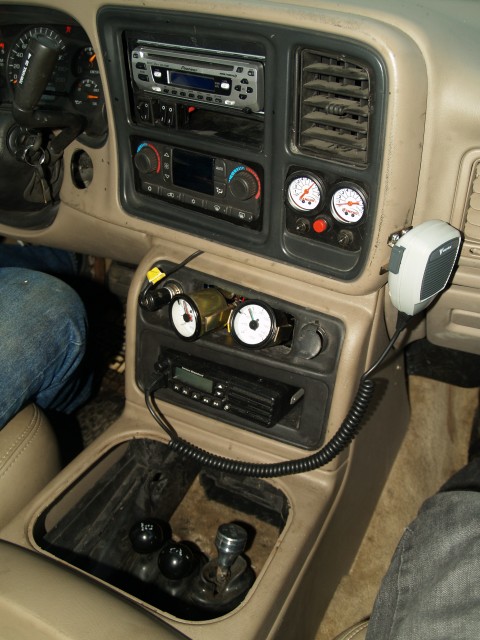 Stjani is working on the interior decoration. The three Atlas control sticks are located under the center console tray. Also visible is the VHF radio, air bag pressure meters and shock pressure meters.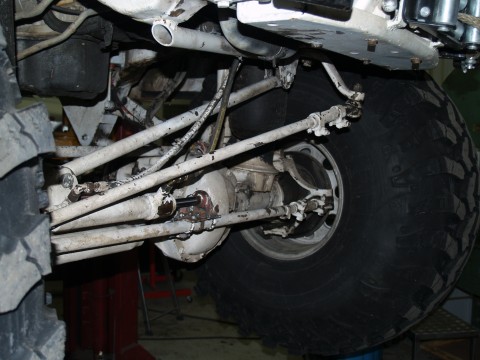 His beefy tires need strong axles and driveline. Up front is a Dana 60 reverse with extra strong axles, air lockers and air bag suspension.
Rear axle is a 14 bolt GMC/Chevy - also with air lockers and air bag suspension.
Stjani took me for a short test run on his GMC Suburban. We got to a little use rock mine to get a feeling for its capabilities.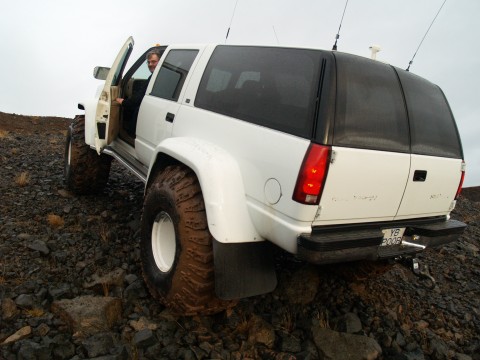 First test is for climbing a steep and loose slope with plenty of mud. With the help of the strong Duramax 6.6 engine and after airing down the tires a little he took the challenge with no problems and no unwanted tire spinning.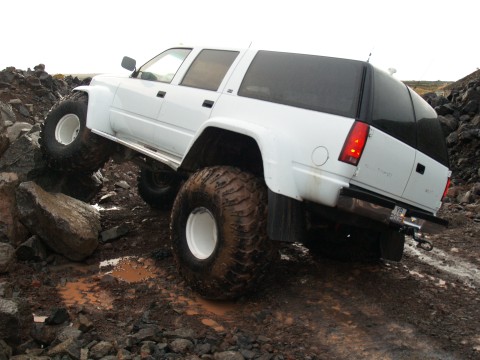 Next up was the flex test. Even though the balance bars are still connected the Sub flexes quite a bit. The left rear tire was starting to lift soon after this picture was shot! This is about as far as I would dare take it without rolling over.
49 inch Suburban - Off Road Tour Pictures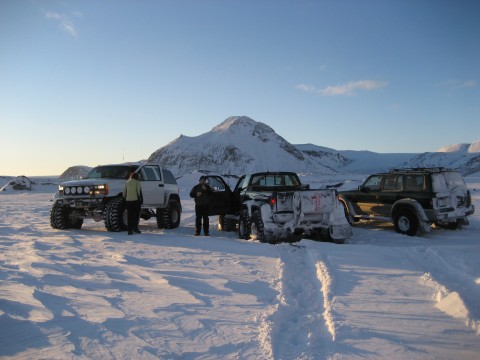 Last weekend Stjani took his Suburban along with two other trucks for a snow riding tour around Hofsjokull to the geological center of Iceland. One is a 6x6 Dodge Ram on 44 inch Trxus tires and the other a Nissan Patrol on 38 inch Monster Mudders.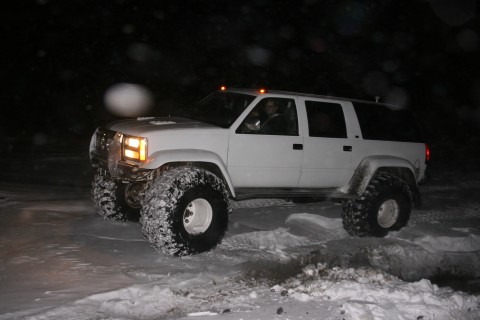 Even though the Sub is quite heavy it showed that larger tires make it up in floatation. Going over this snow bridge proved easy by just going extremely slowly and with the aired down tires evening out the weight.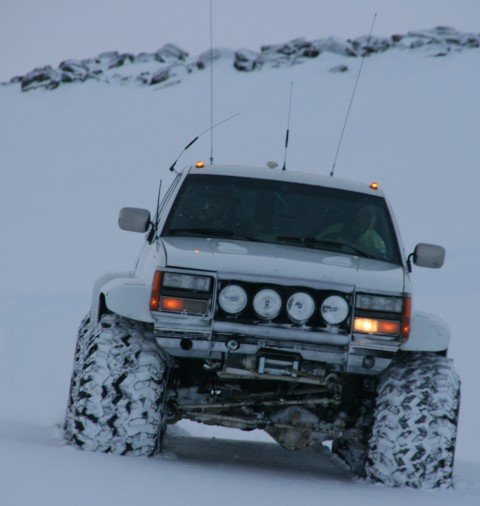 4x4 Off Roads!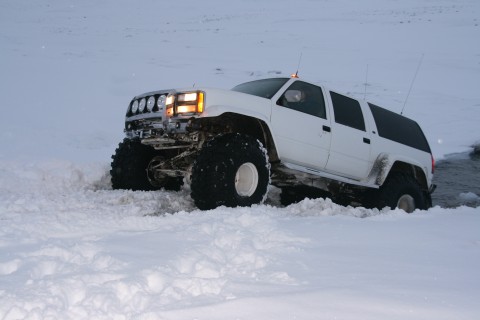 Amazingly the tires don't look overly large for this truck. They just seem to be made for this SUV.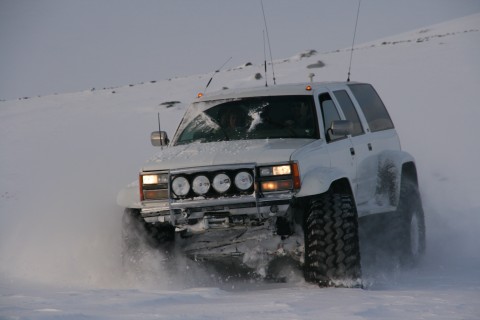 There is not much stopping this truck!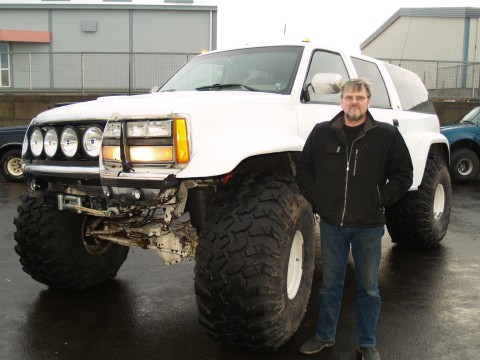 Kristjan standing in front of his Suburban.
Some trucks with larger tires seem to loose a lot of their highway driving capabilities but I can tell you that this Suburban is not one of them. In fact it rides just like a normal car - only difference is in the off road capabilities.
Off road travel pictures by owner Kristjan Kristjansson and travel companions Jorgen and Gunnar Jul.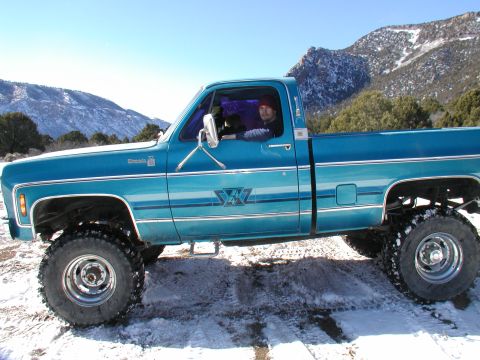 Chevrolet is the Heartbeat of America
Is One Chevy Never Enough? Some of the sweetest 4x4 Chevy trucks from all over. Chevrolet's origins can be traced to trucks first made in 1947. It was only later that 4 wheel drive was introduced in a Chevy. Popular models for offroading include ...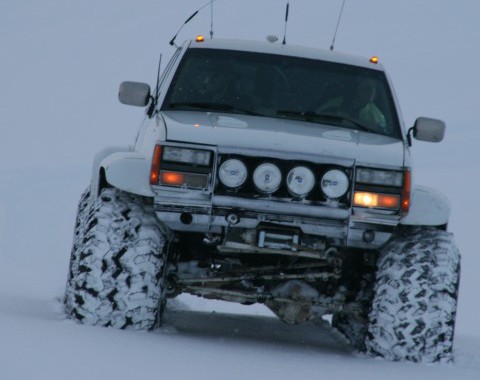 Extreme 4x4 are highly modified and custom built 4x4s. Some of them may look like other 4x4s but as you look closer you see interesting solutions. Others are obviously extreme 4x4s!
Comments
comments