1986 Chevrolet K5 Blazer
"Sex Panther"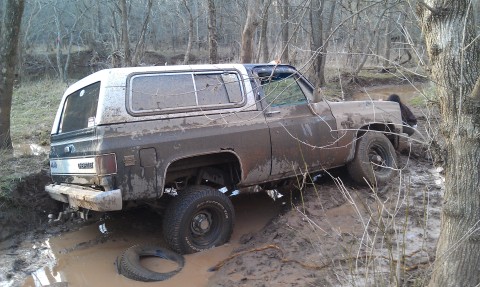 I have a 1986 Chevrolet K5 Blazer.
Tell us about yourself and your love of 4x4 and off roading
I'm a full time student right now, I pick up part time jobs when I can. I also do snow removal in the winter. I LOVE 4x4's. They've gotten me out of a pickle in more than one occasional. Especially when you're literally stuck between a rock and a hard place. I'm a die hard Chevy fan, But I love all American made trucks, I don't discriminate with makes.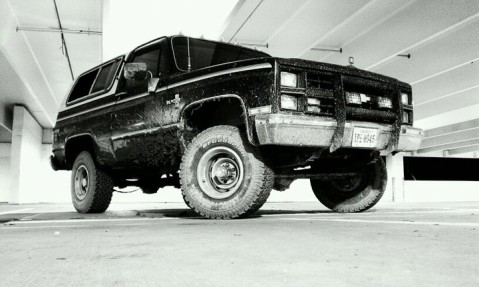 What modifications have you done for your 4x4 and what are your future plans?
I have 2" helper springs, 32" tires, and a 700r4 with a shift kit, np208 with bad synchronizers, and an about to give-way rear end. With all the rattles and leaks. The typical old beater truck.
My future plans include a 350 with some performance parts and a 10:1 compression ratio with all stock sized but, forge internals and a slightly bigger camshaft. Wire tuck, get rid of some vacuum lines here and there. Make it clean and simple. axles front and rear with 4.10's, Detroit lockers and 35-36" all terrain tires. A 4-6" lift all springs. A custom front bumper and rear bumper with winch mounts, heavy duty monster transmission and transfer case, single exhaust 3" straight pipes with a thrush glass pack and some lights and other various mods.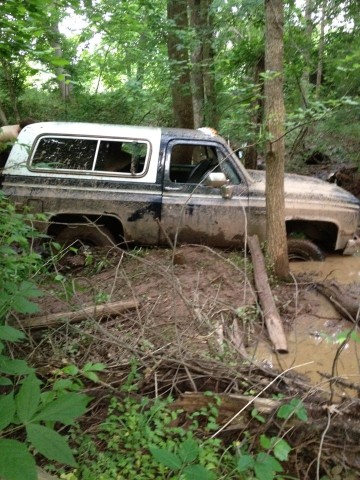 Brands:
Skyjacker, their helper springs have done me well so far.
Engine components – n/a It's pretty much bone stock at the moment.
Exhaust, Thrush. They're cheap and they sound great.
Lockers, Detroit (highly recommended by friends and forums)
Drive-line, Monster Transmission. I'd give it a shot, they look good.
Lights, Gotta go with K/C.
Tires, B.F.Goodrich I have their 32" A/T's right now and I love em'.
What is most challenging when lifting your 4x4 truck?
The most challenging thing I'd say is probably doing it on the street outside of your house. But it's probably going to be the brake lines. and having to do all the measurements so that the steering and braking stays relativity the same.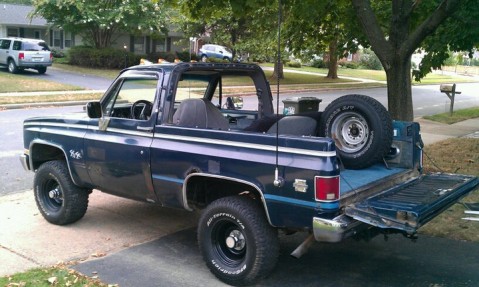 Where do you go wheeling and what is the terrain like?
I go wheeling in a few different areas, up by Mount Weather outside of Winchester,Va, some trails down in Manassas, Va. Constructions sites (ha ha, when it's legal to do so of course) and some power line trails in Burke, Va and Manassas, Va. The terrain varies but it's mostly just hills, ruts, holes, and mud...the worst being Virginia clay..man that stuff is hard to get through easily.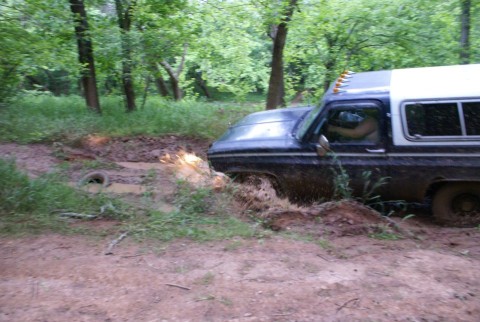 Other info you would like to share
My truck IS my daily driver. And it's my baby. I don't have any other vehicles. I have literally taken it to school/ or work on Friday, sunk it Friday night, dug it out Saturday, replaced broken parts on Sunday and driven it back to school / or work on a Monday. On several occasions. I named her Sex Panther. It's from the movie Anchor Man. They have a bit with "Sex Panther cologne". "It works 60% of the time EVERY time." It also "Smells like gasoline". I found it funny and fitting.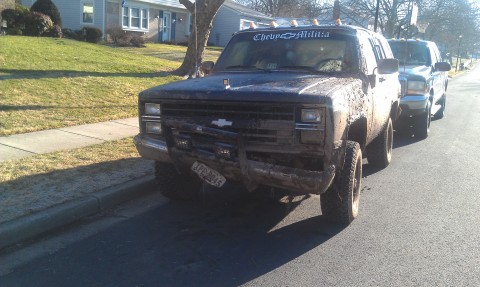 Victor
Chantilly, VA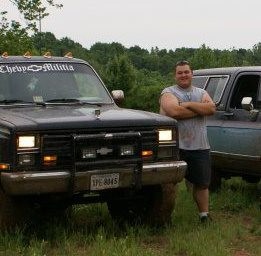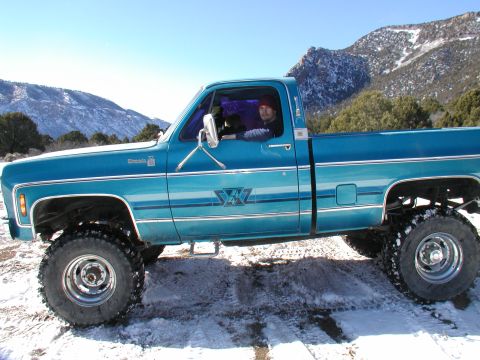 Chevrolet is the Heartbeat of America
Is One Chevy Never Enough? Some of the sweetest 4x4 Chevy trucks from all over. Chevrolet's origins can be traced to trucks first made in 1947. It was only later that 4 wheel drive was introduced in a Chevy. Popular models for offroading include ...
Comments
comments