1986 Suzuki SJ 410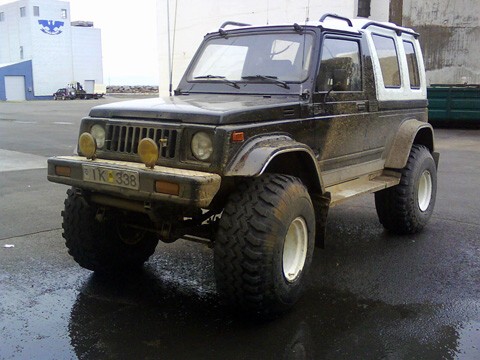 My Suzuki SJ 410 long wheelbase (pickup) is the 1986 model and has been modified a lot by previous owners thru its lifespan. I bought the car early last winter and have just done minor repair to it so far.
The engine is a 4cyl. Volvo B21 (2.100cc) whit 5 speed Volvo gearbox and the transfer case is stock Suzuki. Front axle is Dana 27 with Limited Slip Differential and rear axle is Dana 44 whit No-Spin locker, gear ratio is 5,38 My Suzuki rides on set of 38" Monster Mudders tires on 13"x15" rims. Body is lifted 10 cm (4 inches).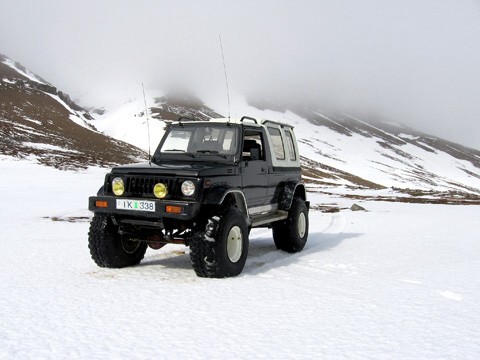 The wheelbase has been modified by moving the rear axle 15 cm (6 inches) to the rear and the front axle forward by few cm and this makes the wheelbase about 270 cm (106.29 inches) from axle to axle.
Suspension in front is a set of leaf springs from GAS (a Russian truck that was imported in Iceland for several years) and in rear is 4-link suspension whith air springs that can be controlled from inside of the car to adjust the stiffness and height of the suspension.
Other modifications are 150 liter (about 40 gallons) fuel tank, on board air compressor for the suspension and to inflate tires, VHF radio, CB radio and soon to come GPS navigation equipment. The car weights 1500 – 1600 kg (3300 – 3500 pounds) fully loaded + 2 persons, ready for some fun.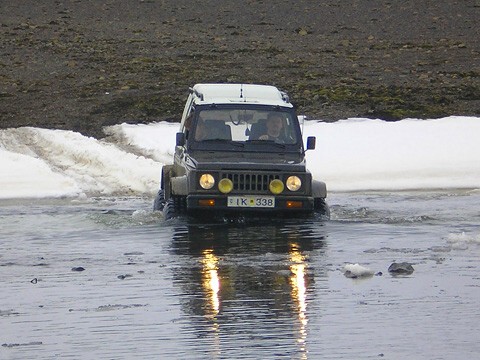 This Suzuki is mostly used for winter four wheeling in north part of the country where I live and in the highlands of Iceland.
Björn Ingi
Iceland

Comments
comments
For more check out: