1986 Toyota Sunrader 180RD 4 Wheel Drive
The small RV that could!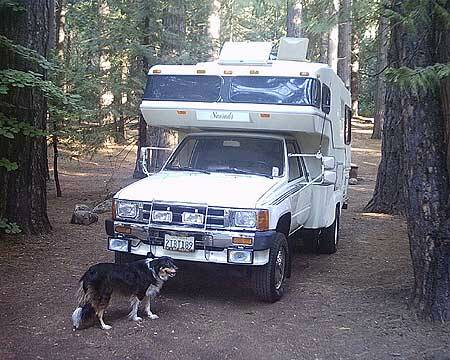 Toyota Deluxe extended cab w/velour interior
Riccaro type seats - Air conditioning
Power windows - Power steering - Power brakes
Independent front suspension
Pioneer cd/mp3 player with rear coach remote
Speakers in dash, behind seat and coach rear
TV antenna (TV removed temporarily) - VCR player
A340H 3 speed automatic transmission with overdrive
Gear ratio 4.10 standard differentials
Shift on the fly transfer case
Tires Michelin LTX M/S Radials - Tire size: LT 215/75 R15
Tire Load capacity: (Single 1765LBS @ 50psi cold - Dual 1610 @ 50 psi cold)
Manual front locking hubs - Factory Tachometer
26 Gallon Gas Tank
Turbo water temp gauge - Turbo boost gauge - Transmission temp gauge
Transmission auxiliary cooler
Full floating rear axle
Two roof mounted rear flood backup lights
Stock 22rte (turbocharged)
K&N Air filter
144.4 cu. in. 2366 cc
135HP @ 4800 RPM
135 Ft. Pounds @ 2800 RPM
Unleaded fuel: Research Octane No. 91 (Octane Rating 87) or higher
Cruises at 65 - 70 MPH with ease!
Fully Self Contained

21 gallon fresh water tank
18 gallon grey water tank
9 gallon black water tank
2003 Wedgewood 3 burner Pizo ignition stove/oven
Northern Breeze powered fan in coach
FantasticVent in bathroom
8 gallon LPG tank - frame mounted
Elec. start water heater
4 cu. ft. Dometic refrigerator
16,000 BTU forced air heating
Extended rear bumper & Rear bumper storage pod
Two ad-on storage containers on rear bumper
Interior floor strengthened with 1/2 inch plywood
Carpet replaced with vinyl covering
Overall length 212 inches (17'-8")
Overall width (7'-0")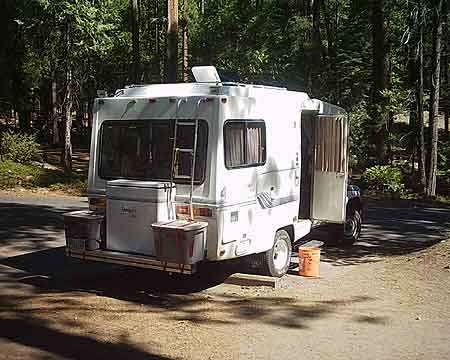 History:
We purchased our Sunrader in June of 2003. When we bought it we knew that it had a week springy floor and had intentions of adding support underneath. But I took out the carpet and laid down some plywood and that made all the difference! Before our first trip I filled the gas tank and discovered after getting home and parking for awhile that the tank leaks at the top access ports.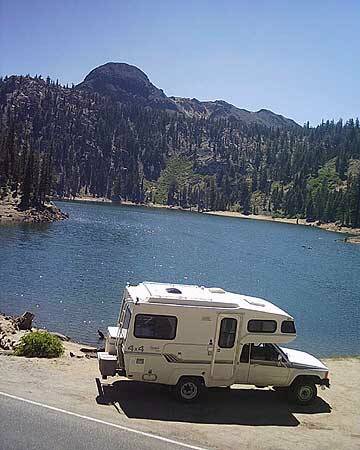 First Trip:
We headed for the Sierra Nevada Mountains up highway 4 to an elevation of 7000ft. plus. The little 22rte (turbocharged) engine was way under powered going up the mountain grades. Much of the climbs were spent in first gear. I had a feeling something was wrong (more on that later). Our first night we started up the water heater and the pressure relief valve would not hold pressure. A few flips of the lever the next day and it did ok. The actual trip went really well with my Wife and I learning how to move about in the little RV with out getting in each others way. One thing discovered was the overhead bunk slopes upwards at the front causing the person sleeping there to roll towards the rear.
The refrigerator also was not cooling. Could not get down below the 50's.
Back home and time to do some engine power upgrades or find out if something was wrong. With some help from Bruce (met Bruce thru another Yahoo Group about 22rte engines) it was discovered that there was no turbo boost at all. I was expecting to spend $2000 to replace the turbo with an aftermarket unit. BUT I discovered that the acutator rod was off the waste gate and the gate was in the full open position. A 13 cent part from the hardware store and it was like dropping 100 HP under the hood.
At this time I built a rack on the rear bumper to carry firewood or whatever. It fits a cargo bin found at Kmart.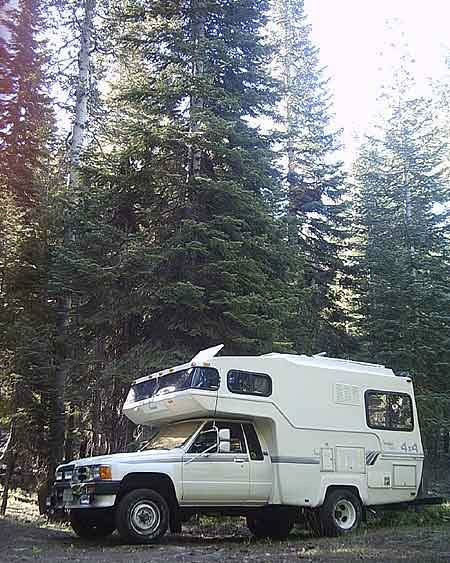 Second Trip:
Returned to the Sierras this time with an operating turbo, WOW what a difference. Water heater still leaking under pressure. Found that by running the refrigerator on 12VDC when on the road that it maintained its low temps. It appears now that when it was run on propane it was heating the boiler correctly.
The trip went really well again!
Third Trip:
Just before the departure day the tail lights went out. Discovered that the ground on the rear lights had gone bad. It seems at the factory the plastic quick wire splices were used and they corroded. I removed them and soldered them together.
Used the "run the refrigerator on 12VDC when driving and it worked really well except forgetting to jump into the RV and turn off the refer when making stops. This was an extended trip for a total of 4 nights. We boondocked for the first 3 nights. Ran out of fresh water after the 3rd night. RV battery went dead about the same time. Ran the engine for about 3/4 hour to charge but it did not charge enough for my CPAP to run all night. Had to hook it up the the truck battery. When charging it for that 45 minutes I monitored the voltages with a digital voltmeter and found that the system was reducing the charge rat prematurely.
Back Home and time to do some work, battery isolator and removal of the dual battery solenoid. A 12 volt relay on the refer that turns off the 12volt when the ignition is off.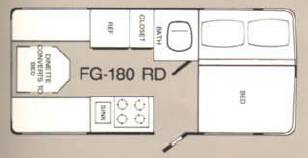 Work we have done: (Not in sequence)
Installed a Nokia Cark/91 hands free kit and Wilson trucker cellular antenna.
Took out carpet. Floor had soft springy areas. Put down 1/2 inch plywood and laid down 12"x12" linoleum squares. At the same time moved table towards rear window 2 inches.
Removed roof top air conditioning and replaced with FantasticVent powered vent. Later though I replaced the FantasticVent with a Northern Breeze because the NB has a variable speed control and the FV only has a three speed and I wanted slower than the FV could go. I removed bathroom vent and replaced with the Fantastic Vent.
Installed two single tube 6 watt fluorescent lights, one above sink and the other above the table along side existing light. They work well and were cheap- from JcWhitney
Added a solar powered fan on the coils at the rear of the refrigerator.
Added a relay on the refrigerator that turns 12 VDC on when the ignition is on and off when ignition off.
Added grab bars at entry and in bathroom.
Removed the 13" TV from rear cabinet (kept hitting head). Plan on replacing with free standing 7 inch LCD screen with built in stereo speakers and DVD player.
Installed battery isolator and removed dual battery solenoid.
Installed two extra cargo containers on the rear bumper to carry firewood for areas where no wood is to be found. Can also be used to carry other items such as garbage.
Purchased a gauge pod that fits on the drivers side window post. It holds three gauges. Installed in it is a turbo boost gauge, a transmission oil temp gauge and a water temp gauge that measures the water temperature that exits the turbo charger.
Installed a transmission cooler at the same time the gauge work was done.
Installed a CD/MP3 player in place of the single channel cassette deck. At the same time I installed some box speakers behind the seats. They are hooked to the rear channels. I installed some switches in the dash and can switch the dash speakers off and turn on the rear speakers in the RV. The player is also hooked up to the RV battery and I installed a switch that turns power on and off on the ignition lead.
Installed a stovetop oven combo. The oven had been replaced with a microwave. Good if you have the power to run it, useless if you don't have the power.
The previous owner had installed fog/driveing lights on the top rear of the RV to use as backup lights. They made a thin beam of light that really did not illuminate much. I replaced them with tractor flood lamps for better light spread.
Things we plan to do:
The overhead bunk is going to get new foam that is tapered at the front to accommodate the curvature of the framing.
DVD player and portable 7 inch LCD screen that can be stored in a cupboard.
Gas tank needs to be removed and the top gaskets replaced.
The shower needs to be disconnected from the black water tank and re-routed to a small holding tank which can be pumped over to the grey water tank using a boat sump pump.
Greg
United States
http://www.toyotamotorhomes.com/gregs_86_sunrader.htm
Comments
comments