2500 HP Engine on the test-bed!
Dyno testing this twin turbo engine looks like a BLAST! Beginning with this beast braking the scale. Not easy - as it also runs HOT!
This 632 cubic inch (10.4 liter) mirror twin turbo bad boy has to be one of the meanest engines Nelson Racing Engines has ever designed. They have to go to extreme measures to test this extreme horsepower engine.
More information can be found at http://nelsonracingengines.com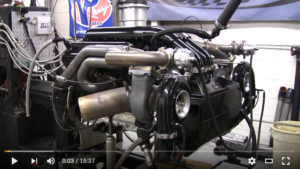 Comments
comments