4x4 Ford - Built Ford Tough?
4x4 Home > 4x4 Pictures > 4x4 Ford 4x4 Ford

Built Ford Tough?
4x4 pictures of the toughest 4x4 Fords from all over the world.
First 4x4 Fords ware made from a license after the blueprints for the Willys. From the relative comfort of the early Bronco to today's huge F-350s that provide enough hardware to drive 46 inch tires and even larger - Ford has a wide spectrum of choice.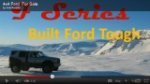 4x4 Ford For Sale
In this video you will discover some of the most popular 4x4 trucks and SUVs produced by the Ford Motor Company. .
Share your joy of the 4x4 Ford you own and send in your 4x4 pictures and descriptions.
Emphasis is on quality rather than quantity.
4x4 Ford Articles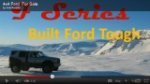 4x4 Ford For Sale
In this video you will discover some of the most popular 4x4 trucks and SUVs produced by the Ford Motor Company. First 4x4 Fords ware made from a license after the blueprints for the Willys. Ford has a huge selection of 4x4 trucks and SUVs.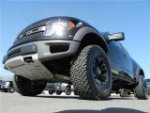 REVIEW: 2013 Ford F-150 Raptor
The 2013 Ford F-150 SVT Raptor is a special breed of truck that will have you volunteering to run up to the store for milk, bread, and anything else you might need. The Raptor is so fun to take off-road, you may finally even give into that temptation of cutting across a vacant field to get there too.

Ford GPW The Ford GPW was one of the early 4x4's. It was designed by Willys Overland during WWII and made by a contract to Willys. Willys renamed the truck Jeep after the war.

4x4 Ford Readers Rigs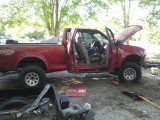 2000 Ford F150
Jeff from Wentzville, Missouri take his F150 mudding in the Bloomsday pit and any trails he can find. He likes the mud Boggs were there's more of a free play and see who can go the farthest.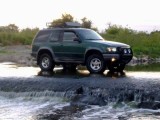 1999 Ford Explorer Sport
Simon moved to Canada from the UK and got this Explorer Sport for $700. Rebuilding it from the ground up with new leather seats and a 5.0 liter V8. It was also the first 5.0 V8 2 door Explorer in Canada.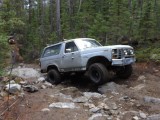 1982 Ford Bronco
Keith lives in Montana and only paid $350 for the Bronco. Overall, it has less than $1,000 into it, but hasn't had any problems keeping up with other rigs on the trail.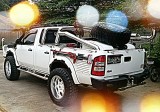 2008 Ford Ranger SC 4x4
Budhi really likes 4x4 offroad trucks. He takes his Ranger mudding in the jungles of Indonesia.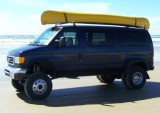 2004 Ford E-250
Mark doesn't offroad much except to skid logs or whole trees on his jobs. He needed a rig that could haul his Dad in his wheel chair on the weekends and his chainsaws and climbing gear during the week.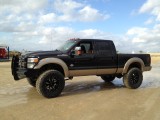 2011 Ford F250 6.7 liter
Trever from Lousiana has been four-wheeling since he was a kid and will never grow out of it. Specially being and living in South Louisiana. There's always a mud hole to play in.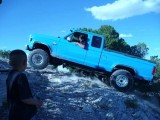 1988 Ford Ranger 4x4
Gabriel Lolito's Ranger has gone through so many parts. Went through two transfer cases, two rear axles, one front axle, five drivelines, dozens of u-joints and axle shafts (front & rear). He would love to go all out and modify the truck but hey FAMILY first!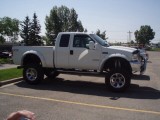 Ford F350 Super Duty
Karl lives in Calgary, Alberta so the mountains are just an hour or so away. He has until now only done some mild dirt and rough terrain off roading - but he's very interested in finding a club so that he can venture out in the snow and mountains for some winter fun!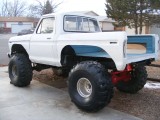 74 Ford F series
Dan normally hangs out in the northern Rockies of Co. He used to spend all his weekends in Ca. at the Rubicon. The terrain in Co. is very diverse depending on where you go. Big rocks, muddy pits, and serious views.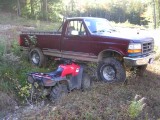 1996 Ford F150 Eddie Bauer
Jason takes his F150 wheeling all around southern New Hampshire, very rocky, endless hill climbs and descends, not enough mud.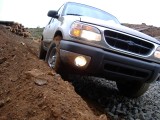 1999 Explorer XLT 4.0 SOHC 4x4
David's dream for now is to add some new 32's to his XLT and drilled/slotted performance rotors. So far he has been to 3 spots all over Oregon. Prairie Mountain - Eugene, Timberline - Mt. Hood, and Seal Rock just south of Newport on the Oregon coast.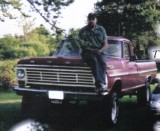 1968 Ford F100 Ranger
John mostly likes to go on backroads and mudpits but also loves winter going through fields filled with lots of snow. The reason hepicked this truck is because he dosen't see many of the 1967-1972 Fords 4x4 around in Minnesota and not many pictured in 4x4 magazines.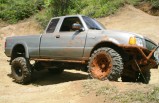 2003 Ford Ranger FX4
Jeremy from Guam knows a few different trails in Guam. Mostly made up of red clay mud. During the dry season it's relatively mild, but when the rainy season hits it is a whole different world.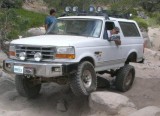 1995 Ford Bronco
Ruby lives in So Cal USA. It's very expensive to live in Southern California but you are never to far a way from the beach, mountains, or desert! Ruby is really thinking about quitting his job to go and wheel around the world before he gets to old!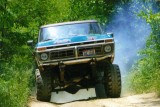 1979 Ford F250 4wheel drive truck
Richard takes his F250 down to AEP in Mordan county and the terrain is mild. He also likes to go trail riding. Richard's wife also enjoys going and playing in the mud she gets air under the tires as well!!!!!!!!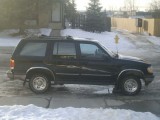 1997 Ford Explorer 4x4
John takes his Explorer wheeling in the mountains with some buddies who also have lifted and modified Explorers. Like mud and hills, he hasn't tried rock climbing yet (wife won't let him - she says it's to dangerous).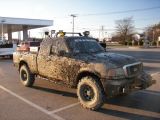 2005 Ford Ranger XLT
Rob goes wheeling several places. State forest in his county. Big mud pits. Long dirt trails. Easy to nearly impossible. He loves the challenge.Rob's Ranger is the ''recovery truck'' in his town. Biggest truck in the school parking lot. He's only 17, senior in high school, and he has a helicopter pilot's license!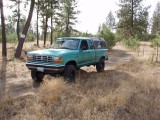 1992 Ford Ranger 4X4 Supercab
Kurt reminds us to leave the trail cleaner than you found it! I always bring a garbage bag for my trash and pick up a little of others' if you see it. Kurt usually goes wheeling on the forest roads and jeep trails in Northern Idaho, USA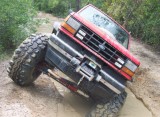 1991 Ford Ranger
James from USA has this great looking and highly modified Ranger. With 44" Super Swampers and a big block engine and everything from top to bottom is less than 6 mo. old. the only thing left is a spool in the front.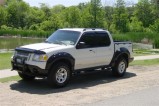 2001 Ford Explorer Sport Trac 4X4
Eldon takes his Sport Trac wheeling mostly in pastures around South central Kansas. Some rolling hills with a few steep canyons. Sometimes to mountains of Colorado around Monarch pass & Mount Princton.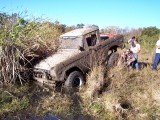 1975 Ford Bronco
Darin takes his Bronco to East central Florida. Dusty trails that lead to some of the sickest mud you can get. Also they do a little thing they call Florida rock crawling (new trails through the palmettos).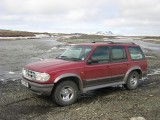 Ford Explorer 1998
Rod from UK would like to take his Ford Explorer and and fit 38 inch tyres. He has just returned from a holiday/first visit to meet his wife's mother...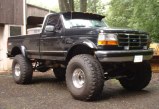 1993 Ford F250 XLT, 5.8L, 5spd, 4x4
Johann Sigurdsson from Connecticut is still trying to turn his truck into the Icelandic version. It's already on 44 inch tires with 14 inch wide wheels and all the lift necessary. Airbags and bigger fender flares are the final steps.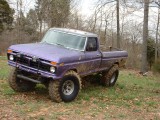 7 Ford F-250
Bryan has just obtained this truck. It has 8 lug 16.5x18.5x44 Super Swampers. It has some type of hydraulic steering assist and hydraulic stabilizer. He is looking for identification on the drivetrain.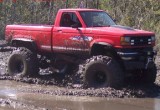 1991 Ford Ranger on a 1970 F100 frame.
James goes wheeling at the local power line trails. Swampy wet and muddy. He drives it on the street most everyday. I love the looks It gets.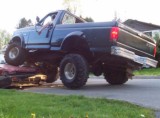 1994 Ford F150 reg cab short box
Dennis from Canada goes wheeling anywhere he can - construction sites - anywhere where they got locked gates. He likes driving on cars have driven on a Prelude and a Ford Tempo and an Oldsmobile Delta.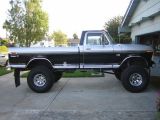 1973 F-250 Ranger XLT
Eric likes these "old school fords" not to many aroundthat have been restored. The side moldings are not cheap on these trucks, but it keeps the stock look.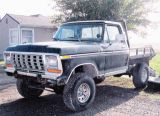 Ford 1979 F-150 Ranger XLT
Justin mainly goes wheeling in the mountains of northern California and western Nevada. Mostly rocky terrain, lots of snow in winter months. Although he plans to hit the Rubicon once the rig is complete.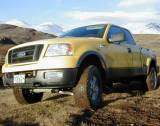 Ford F-150 FX4 5.4l-V8 SuperCab Flareside
Bragi from Iceland own this blazing yellow Ford F-150 FX4 5.4l-V8 SuperCab. He has installed a 2.5" leveling kit up front to make it look better on the 35" tires as to lift the front for off roading.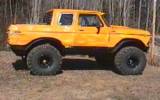 1978 Bronco with Crew Cab Conversion
This vehicle was given a crew cab conversion to make it legal. Bronco's are considered station wagons (cars) in this state (when I built this truck) and were only allowed a 20 inch bumper height. Trucks are allowed a maximum 30 inch bumper height. The laws have been changed now- but the truck still runs great.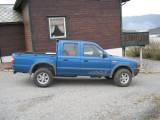 Ford Ranger 2002 2.5L Turbo diesel
Roy Allan from Norway has not done anything .. YET..needs more money..needs time..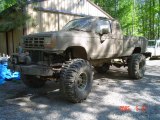 89 Ranger XLT on the F-250 chassis
Bruce Gardner is the owner of the F-250 on the front page. This is the new and improved Ford, a 89 Ranger XLT on the F-250 chassis.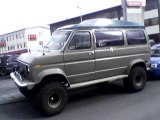 Ford Econoline 150 1980
351m engine. C6 transmission. 38 inch tires high roof fully kitted out with sleeper interior sink and stove, gas heater for those cold Icelandic glacier nights).cb, nmt, cd, pa.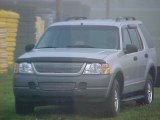 2003 Ford Explorer
Billet grills, American Racing wheels, and cold air induction, GPS system. Mario goes wheeling in the Appalachian mountains.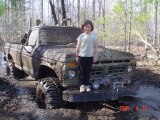 1977 Ford F-250
A 351m with headers runs the power to a built c-6 trans and a 202 gear drive transfer case, that in turn powers the Dana 60 front and rear with 4.88 gears. Detroit locker rear elect locker up front. With 40" boggers I go were I want! And for pulling my buddy's out there's a 12000lb warren up front.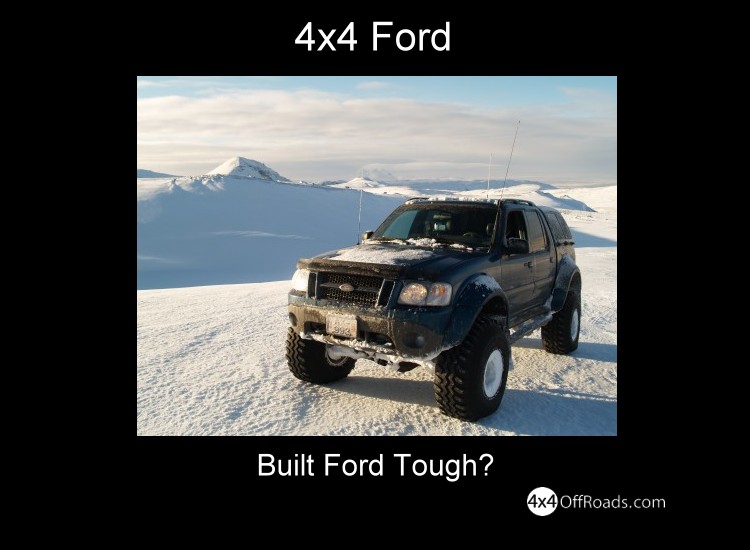 Buy Used 4x4 Ford on eBay:

By Thrandur Arnthorsson
Thrandur is the chief-editor and owner of 4x4 Off Roads and an 4x4 off road enthusiast. Living in Iceland he loves to share the coolest 4x4 trucks and supporting more offroad freedom.
Thrandur is the author of the free ebook How to lift your 4x4 truck!.
Comments
comments