4x4 Mitsubishi
Offroad Performance With Luxury?
4x4 pictures with performance 4x4 Mitsubishi luxury SUVs and trucks from all over the world.
Starting 4x4 production with the L200 pickup in the 70s and then in 1982 the advanced and popular Shogun (Montero or Pajero in some parts of the world).
4x4 Mitsubishi Articles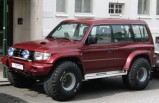 4x4 Mitsubishi
4x4 Mitsubishi Pajero is a popular type of SUV in Iceland. I don't know why but there are not many with full modification. They seem to be mostly used for lighter summer trips and provide large windows and comfortable seating.
Share your joy of the 4x4 Mitsubishi rig you own and send in pictures and descriptions.
Buy Used 4x4 Mitsubishi on eBay:
Enter your 4x4 into the 4x4 Truck of the Month Contest!
By submitting your photos, writeups and videos, you grant 4x4OffRoads.com full permission to publish it on 4x4OffRoads.com and related social sites.
If the form does not function please send your 4x4 Truck of the Month entry with the writeup and photos attached to email: 4x4(at)4x4offroads.com