4x4 Toyota
A Force of Nature?
4x4 pictures of forceful 4x4 Toyota from all over the world.
The first 4x4 Toyota were of course originally made for military purposes and provided a sturdy driveline but little comfort. Nowadays 4x4 Toyotas span the spectrum from the simple HiLux to the luxurious Land Cruiser - all capable off-roads.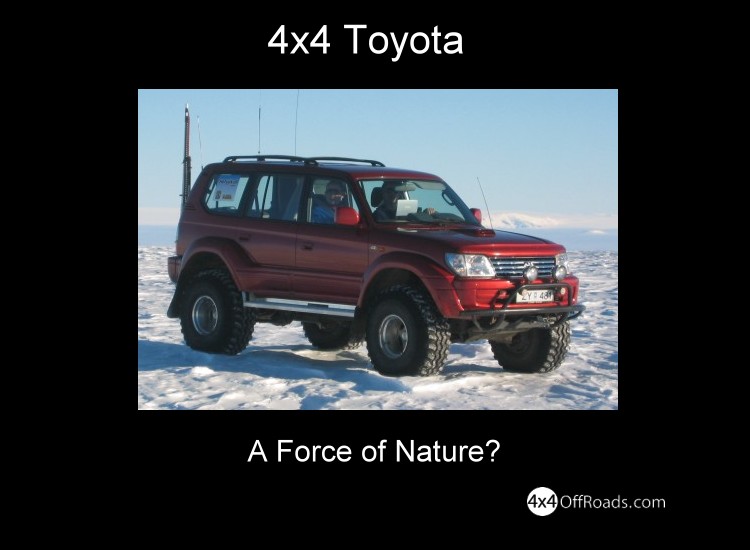 4x4 Toyota Articles
4x4 Toyota Readers Rigs
Share your joy of the 4x4 Toyota you own and send in your 4x4 pictures and descriptions.
Emphasis is on quality rather than quantity.
Buy Used 4x4 Toyota on eBay:
Enter your 4x4 into the 4x4 Truck of the Month Contest!
By submitting your photos, writeups and videos, you grant 4x4OffRoads.com full permission to publish it on 4x4OffRoads.com and related social sites.
If the form does not function please send your 4x4 Truck of the Month entry with the writeup and photos attached to email: 4x4(at)4x4offroads.com
Most Popular 4x4 Articles
Readers Comments
I really enjoy seeing real 4WD vehicles in real situations where they are needed. There are so many highway bound posers that never go off the pavement here that seeing life or death 4 wheeling in Iceland is really refreshing.
-Craig
It is fun to read about other people's Offroading adventures and also learning from the up and downs of their adventure!
-Nathan
The whole 4x4 thing is new to me so i have a lot to catch up on, i am going to get involved in a 4x4 club here in Varna as there are vast amounts of tracks and mountains to explore the news letter is boss:) and i especially like to look at readers rigs
-Mike
Not all people know how to go offroad,prepare vehicles to go offroad, or know how to get themselfs prepared to go offroad. this website is a wonderful way for people to learn how.I even learn some new tricks.thanks
-Matthew