4x4 Toyota - A Force of Nature?
4x4 Toyota

A Force of Nature?
4x4 pictures of forceful 4x4 Toyota from all over the world.
The first 4x4 Toyota were of course originally made for military purposes and provided a sturdy driveline but little comfort. Nowadays 4x4 Toyotas span the spectrum from the simple HiLux to the luxurious Land Cruiser - all capable off-roads.
4x4 Toyota Articles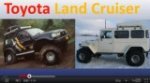 VIDEO: 4x4 Toyota
The first 4x4 Toyota were of course originally made for military purposes and provided a sturdy driveline but little comfort. In this video presentation you will learn about the history of the 4x4 Toyota and what models you can buy online today.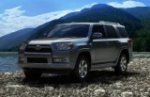 Toyota 4Runner - Offroad adventure ready 4x4 Toyota?
The Toyota 4Runner is quite popular among offroaders and has been since its introduction in 1984. The first 4Runner was a small SUV clearly just a Toyota Hilux pickup with a fiberglass shell to cover the bed. Through the years it has developed to be a decent size SUV with usable offroad capability.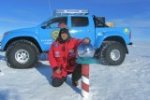 4x4 South Pole World Record
Two Arctic Trucks AT44 Expedition vehicles have set a new Guinness World Record for the fastest overland journey to the South Pole, crossing 2308km of the Antarctica High Plateau from Novo to the South Pole in 4.5 days.

1995 Toyota Tacoma or Pick-up?
Before ordering fender flares or any other part for your North American '95 Toyota truck, be sure you know the correct model name. Back in 1995, Toyota released the first truck ever to be known as the "Tacoma" in the US and Canada. This would replace the older truck that was known simply as the "Pick Up".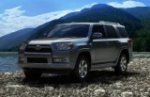 Toyota 4 Runner on 44 Inch Tires
Toyota 4Runner on 44 Inch Tires Jon G. Snaeland is one of the most active 4 wheelers in Iceland. He is in the board of the Icelandic 4x4 club and owns this "slightly" modified Toyota 4 Runner. The 4Runner is fully equipped to handle the most demanding terrain and is supported by a set of 44 inch Dick Cepec tires.

4x4 Toyota Iceland
Ever growing in popularity the Toyota 4x4s are taken to the extreme in the Icelandic off-road. For years the relatively simple Double Cab with 38 inch modification has been the de facto standard in snow riding.

4x4 Toyota Readers Rigs
Share your joy of the 4x4 Toyota you own and send in your 4x4 pictures and descriptions.
Emphasis is on quality rather than quantity.

1985 Toyota Hilux
Jason Z from Trinidad takes his Hilux wheeling to various terrain. Beaches, sand pits, rivers, muddy trails, and scenic trails.

1991 Toyota Hilux
Sigurbjörn Vopni got this Icelandic extreme 4x4 Toyota this summer. It's fully modified with 350 LT1 engine and 44 inch tires.

1983 Toyota SR5 4x4 Mojave Ltd. Ed. Sport Truck Don Knoll from Pennsilvania is the Original Owner. Purchased new in April, 1983 at Englander Toyota, Orlando, Florida. This truck model is extremely rare as less then 100 were produced and sold by TRD exclusively in the USA. Truck was modified in 1990 as seen today other than new tires and shocks.

1990 Toyota Land Cruiser 80 Alex from Russia own this Toyota Land Cruiser 80. It's the 1990 model,1HZ disel,manual gear,Arb-Front,rear bamper, toucg dog, safari snorkel and 35x12,5 R16 tires.

1992 Toyota 4 Runner Ethan from Austing Texas just came back from KateMC Rocks before they shut it down. So far she's got Glassworks Unlimited front end, 4X Innovations tube doors, All Pro bumpers and rear upper and lower chrome moly control arms, Total Chaos Uniball LT with Fox coil overs up front and more...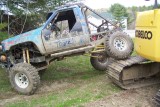 1988 Toyota 4x4 Pickup It took Rick Dionne from Hermon, Maine seven months of late nights to get the basic work done on the 4x4 pickup so it could be driven. From there it has been a work in progress.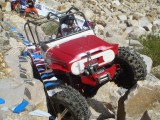 TAMIYA - Toyota FJ40 2F Boyie from the Philippines uses his custom built Toyota mostly for competition, like the Extreme Ooffroading Challenge. It's got 38.5 Boggers Swamper Tires on Steel Rim Beadlock, Hydraulic Steering, Warn Winch, Longfield Axle and Bilstein Shocks. Front & Rear Disc Break and more.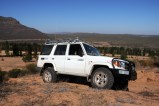 2007 LandCruiser 76 StationWagon Hennie Niemand from South Africa owns this LandCruiser 76 and takes it wheeling all over Southern Africa. It is mostly sand, gravel roads and rock with occasional snow.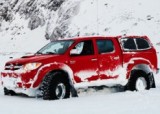 2007 Toyota Hilux Double Cab During the winter Oskar Andri takes his Double Cab often cross glaciers and follows tracks where the ground is frozen or covered with snow. During summer he follows tracks in the mountains and highlands of Iceland.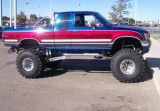 1992 Toyota Hilux This cool Toyota is the building project of Steve who lives in Lubbock TX. He has been building this truck for 8 years now and had a similar one in high school. Future mods maybe solid axel with 44s but either way it is a very nice truck that rides nice on the highway.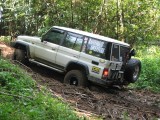 1991 Toyota Land Cruiser II ( FJ70 ) Ben Lee from Malaysia takes his 33 inch Cruiser wheeling in the Malaysian Rainforest. Terrain is from mild, medium, hard to super hardcore.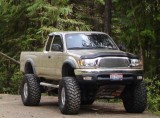 2001 Toyota Tacoma TRD 4X4 Extra Cab Brandon has a cool lifted Tacoma on 36 inch tires. He takes it wheeling in lots of mud and to some fun mountain trails and tracks.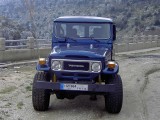 1983 Toyota FJ40 Philip often takes his FJ40 to the Fagra mountains in Lebanon where he lives. He wants to fabricate a soft top, add disc brakes and maybe a conversion to coil springs.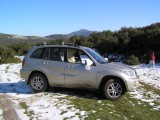 2003 Toyota Rav4 5 Door This Greek guy usually drives on gravel roads up to the Greek mountains or in snow. He lives in Athens Greece and is a civil engineer (constructions). He likes 4x4s and off- roading as well as making things.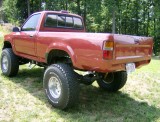 1994 Toyota pickup Markus mostly likes to take his Toyota pickup trail riding or playing in the snow no mud holes. Coming soon are LC Engineering turbo kit Yukon 5.29 gears and 8in suspension lift.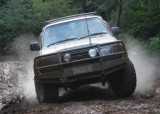 1996 Toyota Landcruiser, 80 series Australian Richard reminds us: "Go prepared...Don't leave it up to others to drag your sorry ass out. Know your own and Vehicle limits".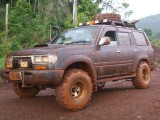 1995 Toyota Landcruiser HDJ80R Anhar from Indonesia owns this comfortable rig for his daily activity on pioneering & exploration roads. Currently on 33 inch tires and plans for air lockers on the drawing board.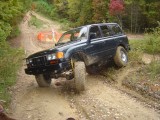 1995 Toyota Landcruiser FZJ80 Bijan does most of his fourwheeling in West Virginia, lots of mud, but he hits the occasional rocky trails. The Landcruiser was handed down too him from his father. Only 92,000 miles on the ticker, and she has been abused from day one. By far the most reliable 4x4 on the planet.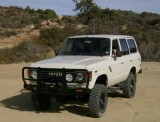 1987 Toyota FJ 60 Landcruiser Dave lives up in the San Bernardino Mountains. He is disabled so he gets to go out and enjoy the trails every week. He takes it easy of course. He is not a rock crawler but likes to watch them. Dave brings his camera and takes pics of other wheelers in action and also the wildlife. He couldn't get there without his Landcruiser.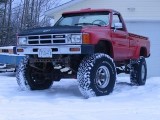 1985 Toyota SR5 reg. cab long box pick-up Kris' truck goes to show that you can build a truck for a reasonable price. He bought the truck for $1000, and has put around $3000 into it since. Unfortunately he has had to sell it. It has served well over the 5 years that he owned it, and will serve the next person well. It has been in his family since 1986.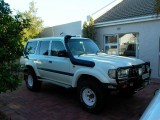 1996 Toyota Land Cruiser 80 series 4500 Petrol Phil Scott is so pleased with his Cruiser: "The Toyota Land Cruiser with the right suspension, the right tires and all that power must be as close as one can get to the ultimate offroad vehicle for South African conditions."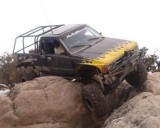 1985 Toyota Extra Cab SR5 EFI Chris has nearly 20K in his Toyota Extra Cab. He goes wheeling on the Rubicon, Moon rocks, High lakes. The Rubicon is as hard as you would like it. It goes from rock to dirt, it is just beautiful. Moon rock is just fun. It is steep rocks with lots of body damage. The high lakes are more fun in the snow.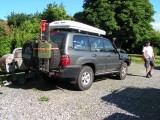 1999 Toyota Landcruiser VX100-LE Henrik from Denmark is the proud owner of this nice LandCruiser. He dreams about keeping it forever. He goes wheeling in Danish military terrain or ground digging facilities. At occasions Swedish military terrain, which is probably the best he has seen.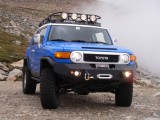 2007 Toyota FJ Cruiser Jeff from USA takes his brand new FJ Cruise wheeling in Colorado, Utah and Montana, rocks, mud and lots of switch backs. It's got Donahoe Racing Coil Overs, Total Chaos Front UCA's, Custom Rear springs 3 inch lift, OME 74E Rear Shocks, Allphase Offroad custom front skid and rear diff skid plate. Gobi Ranger lights, Fab Fours Front and rear Bumpers.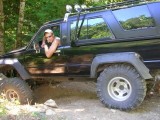 1988 Toyota 4Runner Devon from Canada likes all kinds of wheelin' any chance he gets - from the mud hole on the side of the road to the mud flats up at Stave Lake and every rugged mountain road that southern B.C. has to offer.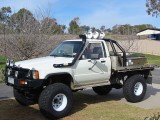 Toyota Hilux 1985 YN65 Hard to tell but Malcolm has done no wheeling yet - he is still BUILDING! It has all the extras, Body Lift Kit 3 inches - TJM suspension 2.5 inches lifted - 15x10 rims running 35 Baja Radial Claws - Lots of Spot Lights Alpine stereo Head unit, Amp, Subwoofer and 6.5" Splits -22RE engine conversion, soon to be a V6 conversion.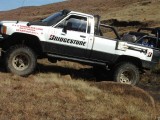 1992 Toyota Hilux 4x4 Simon Morris does awesome wheeling in South Africa. Consisting of huge mountains, snow, ice during winter, steep inclines and declines, river crossings, making his own 4x4 trail through the countryside, when exploring.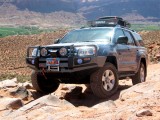 2005 Toyota 4 Runner Mel uses his 4 Runner in Moab Utah, Idaho/Sawtooths Winter and summer. See some stunning shots from his trips and the Toyota.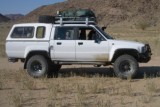 1994 Toyota Hilux Raider DC and a Mitsubishi Colt 2.8 TDi Hennie Niemand from South Africa has two pickup trucks. He says South Africa has some of the most exciting off road driving in very remote locations.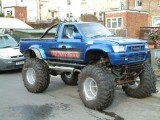 Toyota Hilux 4x4 1989 Mk3 Simon from UK has this impressive Toyota Hilux. It is running 49 inch tires with all the lift needed to do that.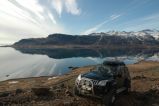 Toyota Landcruiser 120 2002 model Mike from Norway has done lots of trips all over Iceland, both in summer and winter. Back home in Norway he has two places to go with lots of rocks and mud. Also goes snow driving in winter, including up a few ski-slopes!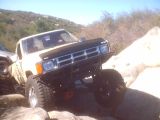 1984 Toyota Std Cab Rob owns this heavily modified Toyota pickup. Engine, gearing, suspension, tires and more. He goes wheeling mostly Southern California. LOTS of Rocks, Desert, and Mountain trails.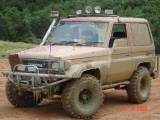 1985 Toyota Landcruiser 70 Series Ron Erasmus from New Zealand takes his LC 70 wheeling all over and the terrain wearies from sea sand to MUD MUD and more MUD and love it . Also does trials and some rocky out crops.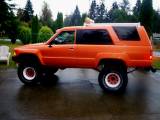 1984 Toyota 4-runner PainterJay goes weeling up Boston main, local coal pits, up Mt. Washington to the old mine slag pits, lots of mudding.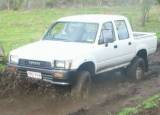 1989 Toyota Hilux Michael from Australia goes out to Echo Valley, Blackduck Valley, Landcruiser mountain, and anywhere else the car will take him that is rough, boggy and lots of mountains.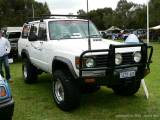 Toyota Land Cruiser HJ60 1982 Big Pete from Australia likes playing in the mud, hill climbing, beach driving just about any reason to get the cruiser out and dirty he doesn't care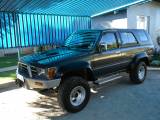 1993 Toyota Hilux Surf (4 Runner) Tony from South Africa does a lot of medium to rough offroad trails, mostly in rocky and muddy conditions.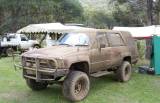 1984 (YN60) Toyota 4Runner Nathan goes wheeling in his 4 Runner all over Tasmania (the funny little island that hangs off the bottom of Australia)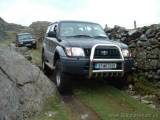 1997 Toyota Landcruiser Colorado (Prado) Gavin from Iceland has this nice Landcruiser. He travels to the UK for offroad events and is looking for ways to upgrade and modify the SUV.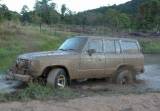 Toyota Land Cruiser HJ 60 (1980) Anhar from Indonesia owns this Land Cruiser with the 2H Engine and OEM TOYOTA Lock Hub.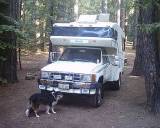 1986 Toyota Sunrader 180RD 4 Wheel Drive Greg purchased this Sunrader in June of 2003. When he bought it he knew that it had a week springy floor and had intentions of adding support underneath.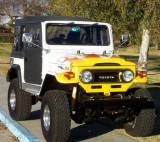 1973 Toyota Land Cruiser 305V8, 700R4 trans. Full frame off restoration, old man emu susp. 35" AT tires, besttop tiger top, kamar bumpers rear swing out tire carrier, procar racing seats, memphis bell competition stereo system, rino lined thru out custom paint Yellow front bib into flames on hood into pearl white.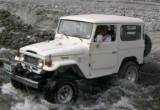 Toyota Land Cruiser 1979 Edwin from the Philippines goes wheeling on his Land Cruiser in the Lahar beds.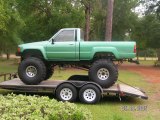 1985 Toyota 4x4 (1986 Body) LC Engineering 22r motor, 38 Weber Carb, MSD 6 OFFROAD Ignition, stock transmission, modified transfer case with 4.1 lower gears installed,5.29 gears in front & rear pumpkins,3 inch body lift, 7 inch skyjacker suspension lift, ladder bars sitting on 15x42 inch SuperSwamper's.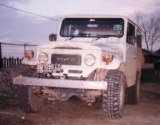 Toyota Land Cruiser FJ40 1981 Old Man Emu shock absorbers, Toyota original Power Steering, Original Toyota Land Cruiser 80 series wheels R16, Bridgestone M/T 33" and Simex Jungle Trekker 31", Disc Brakes, EZ Locker on Rear. From Nathaniel in Indonesia.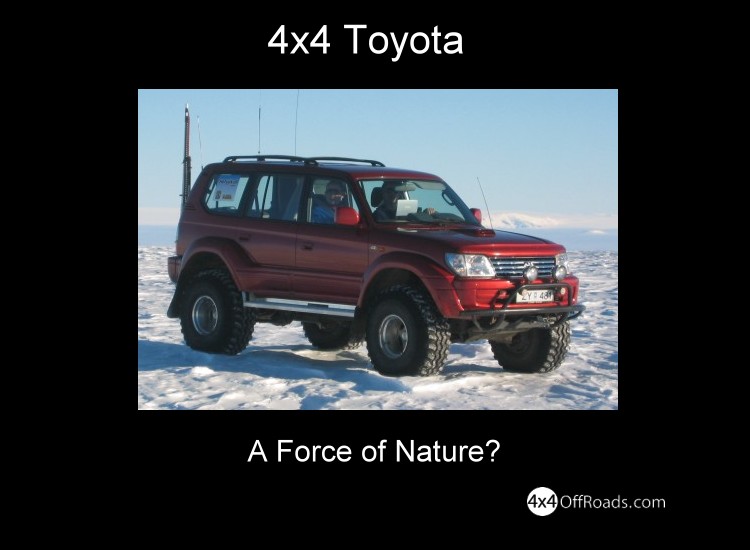 By Thrandur Arnthorsson
Thrandur is the chief-editor and owner of 4x4 Off Roads and an 4x4 off road enthusiast. Living in Iceland he loves to share the coolest 4x4 trucks and supporting more offroad freedom.
Thrandur is the author of the free ebook How to lift your 4x4 truck!.
Comments
comments