4x4
Experience the MAGIC of 4 wheeling
When you hear the shout to action, "Let's go four wheelin'!" what do you think of? Does it cause your heart to skip a beat and a smile to come across your face? Well for a long time - since around World War II days in fact - those words have done exactly that for millions of people around the world.
Talk about 4x4s and offroading and you can see the blink in their eyes - that is the clear signal!
4x4 fun and off roading go hand in hand - or should I say tire by tire. Sure it costs money, but offroading has been a hobby and even a lifestyle for close to 3 quarters of a century, now. There are good reasons why.
In this article I give you an overview of the world of 4x4s and a glimpse of the magic with this fun and exciting, as well as challenging, way to discover the great outdoors. So buckle up your safety harness and let's dig in!
4x4 Definition
As you probably know a 4x4 ("four-by-four") is a vehicle with four wheels where all wheels are connected to the drivetrain. Four-wheel-drive (4WD) gets all four wheels helping out in low traction situations like when you are driving on rough trails or off-road. Although many 4x4s are never taken off-road we at 4x4OffRoads are of course focusing on the REAL 4x4 trucks and SUVs.
Check out this video where 4WD systems and lockers are explained:
The Four Wheel Drive Machine
Four wheel drive machinery really got essential and necessary overseas during WWII. Hundreds of thousands of soldiers traversed the war arena in Jeeps and Willy's and other four wheel drive army trucks and war machines. After that, the 4x4 became more popular, but did you know that the 1st 4 wheel drive patent in England, and the world, was way back 1893? A guy named Diplock (sounds like a 4 wheeler's name, somehow, doesn't it?) introduced a four wheel steered and four wheel driven tractor of sorts. It was steam propelled and slow and probably not very fun.
After that, there were many innovations and designs that came along including Ferninand Porche's electric vehicle. It had electric motors at each wheel. the Lohner-Porsche as it was known came out for exhibition in 1900 and boasted a whopping 7hp, but only for short bursts. It was heavy, clunky and had what was described as a sinister appearance. All that sounds pretty, cool, really, but still not fast, and not fun.
Other examples came along over the years, many versions of automobiles, trucks, military vehicles and other experimental machines were coming on the scene. A lot of these have become collectible relics and are certainly fascinating, but the real fun began around World War II - even though all the flying bullets kind of dampered some of the fun of four wheeling around the European country side!
During those days, when American Bantam developed the Jeep the whole game changed. Originally developed by Bantam but produced by Willy's and Ford, the Jeep became the symbol of stump-jumping at its finest. How can anyone look at one of those old, black and white photos of the soldiers careening through the air and not want to try that? Apparently the soldiers thought it would be fun when they got back home, and that is potentially where the "sport" began.
Civilian people all over the world noticed how capable the 4x4 vehicles turned out to be. Here in Iceland for example, farmers started using Jeeps and later Land Rovers and same happened with regular travellers.
These guys found that using a 4x4 is an awesome way to experience the great outdoors.
Recreational four-wheeling was off to its start.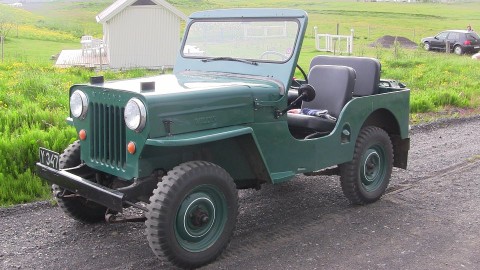 Willy's introduced the CJ-2A in '45 and that was pretty much the 1st full-production 4WD passenger vehicle. They assumed ownership of the name in 1950. As for why the Jeep was named "Jeep", there are only theories. It could be named after the cartoon character on Popeye cartoons (Eugene the Jeep), or it could be the soldiers rendition and interpretation of the G.P. abbreviation for either "General Purpose" or "Government Purpose" and they shortened it to Jeep, like what has happened to the High Mobility Multi Purpose Wheeled Vehicle aka, the Humvee. Either way, many people today that own Jeeps and work them hard understand that Jeep stands for "Just Expect Every Paycheck" to go for repairs and parts.
After the Jeep was out of the blocks, the Land Rover came out. It was great for serious off-roading, but didn't catch traction in the US market until a few decades later. Dodge rolled out the Power Wagon in 1946, which was a civilian-use version of a produced-for-military purposes vehicle. In 1951 NAPCO started to produce conversion kits for pick ups. Then, it was on, baby. By '57 Chevy and Ford were rolling 4x4's off their assembly lines using NAPCO parts. Jeep then came out with the Wagoneer in 1963 and they continued to build off-road vehicles all the way through to the '70s when the Ford Bronco was introduced and later Toyota,Suzuki and Mitsubishi. The market for 4 wheel driven, off-road adventure-seeking had pushed even into the sedan world - creating the first 4x4 SUVs.
Other parts of the world have seen usable 4x4s like the Nissan Patrol, the Russian GAZ 64 and the Mercedes Benz G-landewagen - not to mention the Unimog!
While AWD (all wheel drive) is almost the same as 4 wheel drive, it is intended for cars and luxury vehicles and doesn't have the low range option. Making them less capable offroad.
The 4x4 Culture
4x4 owners take their offroading seriously and some even too much.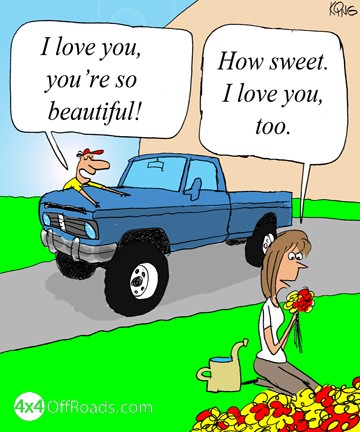 4-wheeling has developed over the years into a few different directions. It is safe to say that if you like freedom, a challenge, the outdoors and machinery that gets you to the more remote places, then there is a spot within the community of off-roaders for you. There are many events held all over North America and around the world, from rallies, mud runs, jamborees and other events specific to a certain kind of 4 wheel drive vehicle. Jeep clubs, for example, dot the map and you can almost count on being able to find a club in every city, for sure in every state and across Canada. There are Hummer Clubs, 4x4 Chevy owner's club and on it goes. Next summer will be the 60th Annual Jeeper's Jamboree, a pretty hard-core 96 hour trek across the Rubicon.
Lots of fun and some serious winching and navigation engineering happening there.
Or you can simply head out with a few friends up some logging roads or across the desert.
Driving 4x4 innovation is done by real offroaders taking on the most difficult terrain or competitions. Jessy Combs, Shannon Campbell, Eric Miller and Nicole Johnson are well known names in the world of 4x4s. Similarly we all know ARB lockers, Arctic Trucks South Pole expeditions and Warn winches - the list goes on!
And don't forget online communities like Lance Clifford's Pirate 4x4 and of course 4x4OffRoads. They gather like minded offroaders with a shared vision.
4x4 Offroad Events and Places
If you really want to experience what offroading is all about you should pay a visit to one of these key events in the 4x4 world:
Easter Jeep Safari - every year Moab in Utah hosts the Easter Jeep Safari. Off-road enthusiasts come from all over to take part in the amazing event.
Rubicon Trail - is a 22-mile (35.5 kilometer) trail across the Sierra Nevada mountains. From what I have heard, Rubicon is one of the most beautiful places for offroading and just experiencing.
Formula Offroad - more extreme offroading like the Formula Offroad that started here in Iceland is about as wild as you can imagine!
Baja 1000 - the 1000 mile long endurance off-road race that takes place on Mexico's Baja California Peninsula.
The Dakar - that you may know as "The Paris Dakar" or "Paris to Dakar Rally" is an annual off-road race now held in South America.
King of the Hammers - is the off-road race that combines desert racing and rock crawling. This race is held at Johnson Valley, California.
Jeep Jamboree USA - has been providing adventure weekends since 1953 in the Sierra Nevada Mountains.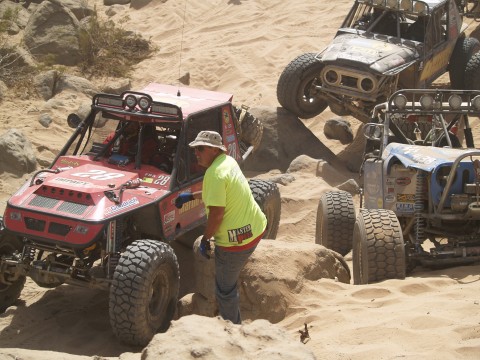 While most of us understand the importance of protecting the environment, there are unfortunately some black sheep that don't.
In the name of "protecting the wilderness" the trend in the world has been towards banning offroading and closing down trails. But our resources were not being protected FOR the public, but rather FROM the public. Popular areas in US like the Moab and Johnson Valley are under threat.
It is important to fight this battle and a few non-profit organizations are doing just that:
The BlueRibbon Coalition was founded in 1987 shortly after Clark Collins, Founder and first Executive Director, was told by then Idaho Governor John Evans that recreationists were not politically significant and implied that Wilderness was more important than motorized access to public lands. Del Albright currently serves as BRC's 4-wheel drive Ambassador.
The United Four Wheel Drive Associations have been around since the '70's. They fight the anti-access groups who spend tremendous sums of money to close the areas where we all enjoy our sport. It is imperative that we have a strong and United voice to represent us.
Tread-Lightly is a nonprofit organization with the mission to promote responsible outdoor recreation through ethics education and stewardship programs.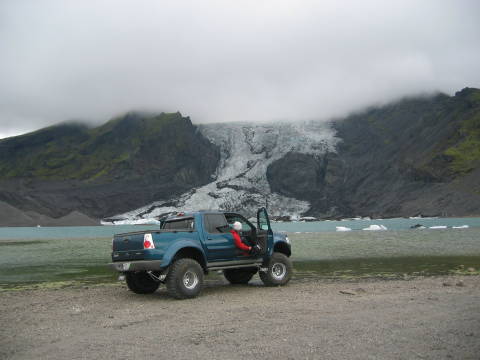 To show our respect for the environment we as truck owners should follow a few simple rules:
Take all your trash back.
Unless specifically stated - offroading is only allowed on trails.
Leave no broken parts behind.
Don't damage the wilderness.
Don't spill oil or other toxic fluids on the ground.
Get permission and follow rules for the area.
Respect other travellers.
In short don't be an A$$HOLE!
Four Wheeling Future
The off-roading magic can be enjoyed by just about anyone that has the desire to get out and get one with machine in nature. Even if you don't have a 4x4 you can enjoy the freedom and inspiration of this awesome sport because 4 wheelers are friendly folks and if you make yourself available, they love to have company. Helpful and fun, these folks are usually eager to share the fun and the adventure.
So discover the magic and head off road!
Lifted 4x4 Trucks For Sale
4x4 Truck of the Month - Hall of Fame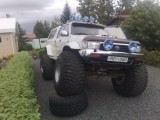 1991 Toyota Hilux - Winner of the November 2012 "4x4 Truck of the Month"
Sigurbjörn Vopni got this Icelandic extreme 4x4 Toyota this summer. It's fully modified with 350 LT1 engine and 44 inch tires.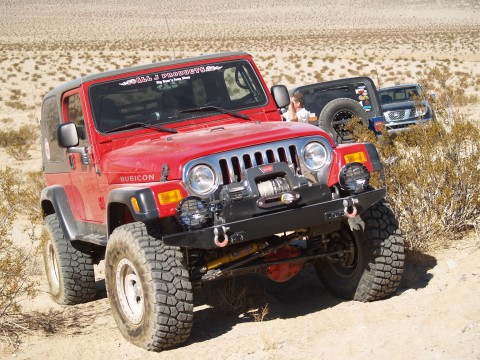 4x4 Off Roads!
Comments
comments