Magnetic North Pole OffRoad
Hilux Arctic Challenge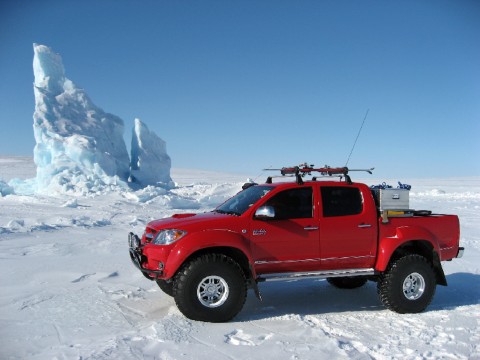 Since 2003, the Polar Challenge Race has been taking place every year with competitors in three persons team racing on skis 320 nautical miles across the Arctic to reach the 1996 Magnetic North Pole.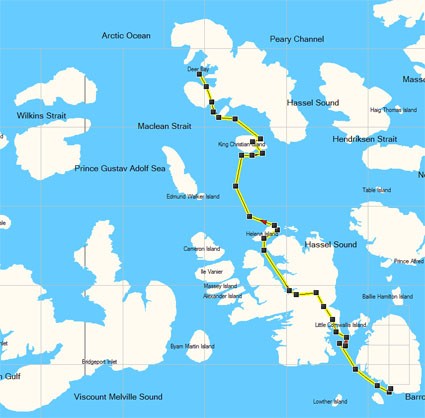 BBC's television show Top Gear, approached Toyota GB with the idea of undertaking the Challenge in a car, something never before attempted. Because of its proven toughness the Toyota Hilux was chosen for the job. They planned to pit the car in a race against the tried and tested method of getting around in the Arctic - dog sled.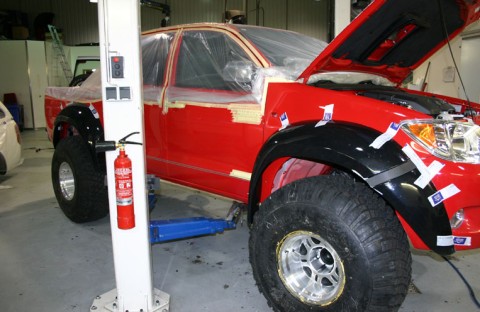 In the harsh environment of the Arctic even the Hilux was going to need some help. So in December 2006 specialists at Arctic Trucks in Iceland set about preparing the Hilux for its grueling adventure. The pioneering journey was the culmination of months of planning between Toyota (GB), engineering experts Arctic Trucks from Iceland, the organizers of the 2007 Polar Challenge and the Top Gear production team.
Each Hilux has more than 240 man-hours of work to complete the modifications.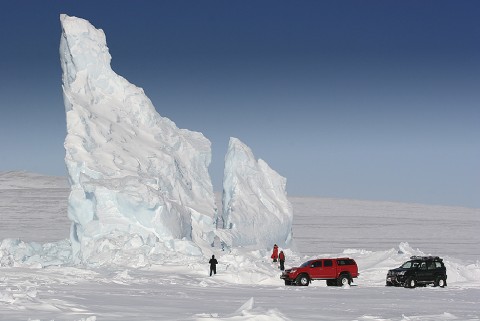 Arctic Trucks role in the expedition was to make the necessary modifications of the cars to make sure they were able to cope with this huge ordeal, to drive the support vehicles and be ready to fix damaged vehicles in case needed. Three members of Arctic Trucks staff took part in the expedition; Hjalti V. Hjaltason and Haraldur Pétursson who were mechanics and drivers, and Emil Grimsson Chairman who advised and accompanied the expedition. Emil kept a diary during the expedition.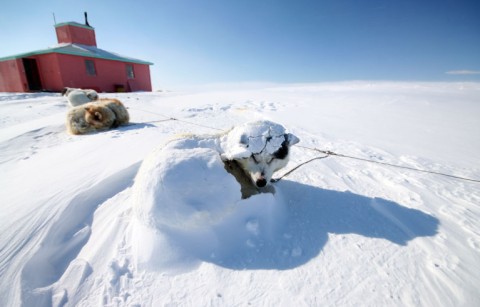 Arctic Trucks has previously taken part in big expeditions and the experienced staff of Arctic Trucks did a great job in making the Hilux ready to meet the difficult conditions on the Magnetic North Pole. Expeditions are of great importance for Arctic Trucks. They provide the ultimate test of the designs and the ingenuity of Arctic Trucks' technical personnel and a unique opportunity to try out the vehicles under the worst possible conditions. The results in this expedition were quite straightforward and extremely pleasing: Arctic Trucks passed the test with flying colors.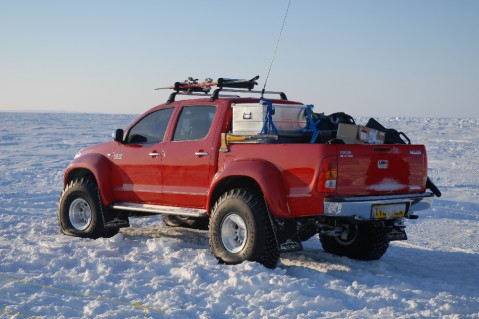 The Hilux carried a wide range of accessories designed to address the special risks of driving in such extreme conditions.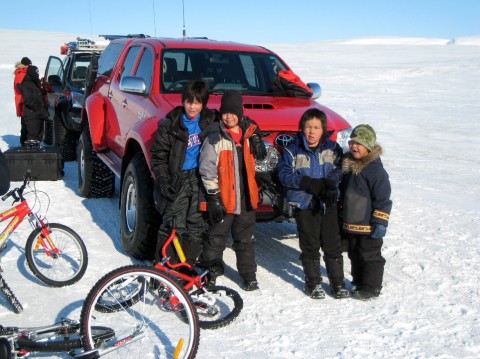 Arctic Trucks involvement began early 2006 with Toyota GB discussing this idea. Even though the Arctic Trucks team has a long experience with great variety of cold area conditions, driving on "thin" oceanic ice was very new to us. Still we were fairly confident that this could be done, the question was how we needed to prepare the vehicles to cope with these conditions. Judging from the pictures we saw from this area we even started of evaluating if 37 inch tires might do it for a light vehicle like the Hilux, 44 inch would definitely not be needed. Very early on we concluded that we should have at least 3 vehicles.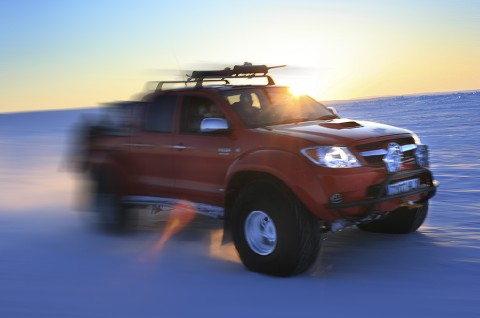 Together with Toyota GB and the help from Polar Challenge we made a trip to Resolute in March/April 2006 and looked at the conditions. The snow was somewhat different from what we had seen before but not really of big concern. Some of our biggest concerns were big ice blocks hidden by soft snow and sharp edged stones sticking out of the snow in higher areas of the islands we would have to cross. The ice blocks, if hit hard, could seriously damage the cars and the sharp edged stones would cut the side walls of the tires when using low air pressure.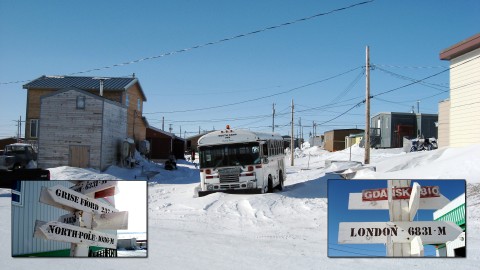 Arriving back from Resolute we suggested using 3 vehicles on 38 inch tires. Two identical Hiluxes supplied by Toyota GB and one Land Cruiser 120 would be supplied by Arctic Trucks. It was decided to wait for the Hilux with 3 liter AT that would begin in production at the Toyota factory in South Africa in October. The color red was selected for various reasons. Later when we realized the amount of gear that the TV crew would need we decided to add a trailer on 38 inch tires as well and decided that one of the Hilux would have a canopy for more storage space.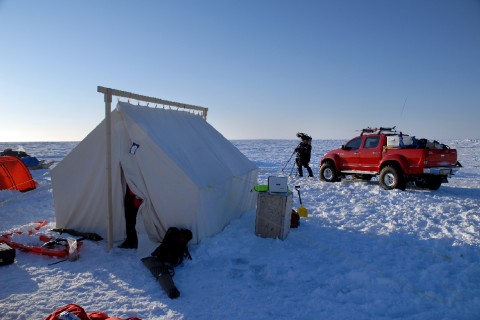 The race would take place at the same time Polar Challenge held their race in 2007. This would give the TV crew and us access too their logistics and safety network. The Polar Challenge has huge experience in setting up all sorts of races and team members with huge experience in survival training and doctors specialized in cold area problems.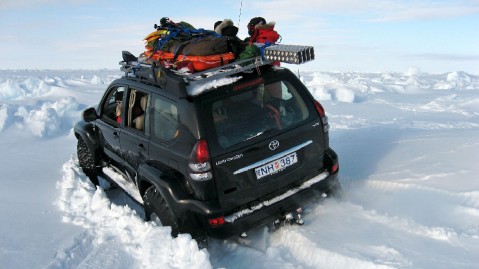 Before the first Hilux came to Iceland in late December 2006 we had more or less decided the basic modification. We would not do any body lift but instead move the front suspension down and forward. We would not install coil spring suspension in the rear but use longer leaf springs from Toyota Tundra. To keep the centre of gravity low we made as little suspension lift as possible but did instead a considerable modification to the body. We were a bit in the dark as to how much fuel we would need but we set of with the plan we would get one fuel dump approx 2/3 of the way to the Magnetic Pole, needing approx 200 liter capacity per vehicle beside some extra fuel on the trailer. We could therefore tank up there two times, on the way up and on the way back. We lowered the gear ratios to 1/4.88 and considered to install extra low gear box in at least one of the vehicles. 100% differential locks front and rear was installed in all vehicles. We installed extra heaters, including heated fuel filters, bigger batteries, inverters to supply power to all the camera equipment and laptops.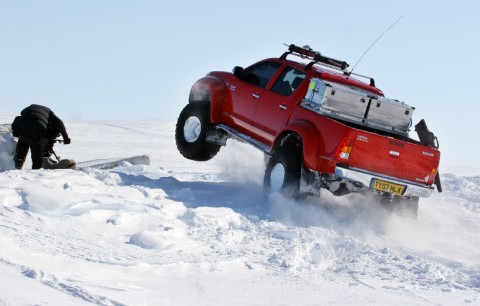 For communication we used VHF radios between the vehicles, Iridium phone for the outside world and GPS for navigation. As originally the race was to take place earlier in the year we installed extra lights. We decided to keep these lights on as they might come in use in bad visibility. The Land Cruiser we used was modified late 2004 had approx 40 thousand km on it mixed with highland/glacier driving and normal family driving.
After a test drive in Iceland crossing glaciers and traveling the Icelandic highlands we decided that the Tundra leaf spring was a bit too soft so we added leafs from the original leaf springs. We also adjusted the shock absorbers to the firmest.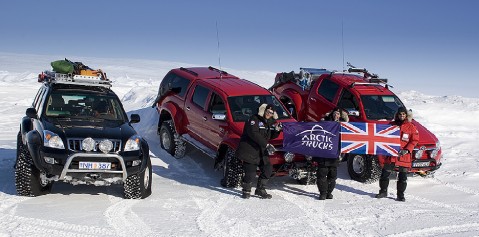 With the camera crew coming to install the equipment in late March a number of last minute adjustments had to be made. For example, to block outside light we installed darker films in the windows. This caused some concerns as breaking the side windows was part of the escape plan if the vehicles would go through the ice into the ocean. As a compromise we had the film pre-cut and cut a bit too small. We also had African Outback a special roof rack that would sit on the back of one the Hilux for added storage space.
Vehicle Specifications:
Vehicle Arctic Trucks Double Cab 3.0 D-4D Suspension Front: lowered by 50mm, moved 40mm forwards, additional 40mm lift.
Rear: longer, more pliant leaf springs fitted with heavy duty long travel pump stops and specially tuned shock absorbers. Wheels and Tires Bespoke Arctic Trucks 15x12" aluminum wheels with two valves per wheel.
Arctic Trucks AT 405 38" studded snow tires. Engine Standard 169bhp 3.0 liter D-4D engine, modified to cope with ultra low air temperatures.
Auxiliary heater added to boost coolant temperature before starting, together with fuel heaters and a heavy duty battery.
Air intake raised and special exhaust system fitted.
Auxiliary 90-liter tank increasing fuel capacity to 170 liters. Transmission Arctic Trucks 4.88:1 differential ratios with front and rear diff locks with cold weather preparation. Bodywork Flared wheel arches.
Front bumper bull bar protection with jack locations and winch mounts front and rear.
Heavy duty skid plates made of 5mm thick aluminum to protect the front bumper, suspension, transmission and transfer case.
Heavy duty running boards.
KC Xenon spotlights.
African Outback carrying rack. Wheel Base 3125mm (from 3085) Length 5335mm (from 5255) Recovery kit Chain saw, axes, shovels, crowbars, high-lift jack and winch Survival Equipment Tents, low temperature sleeping bags, heaters and shotguns were also carried for protection against polar bears.
Pictures and text from:

...
and:

Comments
comments