Nissan Patrol 1993 - 44 Inch Modification
Óskar Erlingsson in Iceland has made all the necessary changes to fit 44 inch Fun Country tires under his monster. Serious work has been done on the drive train and engine with more to come.
The Ultimate Datsun ...modified Nissan Patrol 1993 on 44 inch tires.
[]-o---[]
Modification Overview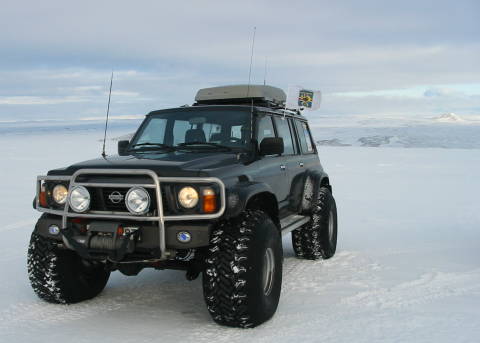 Nissan Patrol 1993 on 44 Inch tires
Lift
Suspension lift of 115mm, 65mm aluminum blocks under the springs with new OME coil springs having 50 mm longer shocks (front shocks are 120mm longer than original).
Front axle moved forward 60mm, rear axle moved backwards 20mm.
Radius arms, cross members, radius arm brackets and cross member brackets rebuilt or modified for new axle locations.
Modified and changed locations for all tubes to axles (breaks, vacuum, breathing etc.)
Front bump stops moved down 70mm, rear bump stopper move up 100mm.
New tie rod added, adjustable to correct the steering wheel after the lift, (will be longer).
Steering stabilizer added, necessary for 44" tires. Also enlarging the power steering fluid reservoir 100% and lowered 80mm.
Front anti sway bar removed. Connecting pins on rear anti sway bars extended some 110mm.
Pinion angle increased by 4'" for a total of 6" by turning the axle casing.
Body lifted from the frame by 80mm. Eight out of ten body brackets on the frame where rebuilt and welded. On two brackets plastic blocks ware used along with a longer bolts (those in front of the rear wheels).
Bumper brackets modified and bumpers move up 80mm, front bumper cut to fit the 44" tires.
Winch bar fitted in the front. Quick engaging electrical connector for the winch added along with a switch under the hood.
Radiator lowered by 80mm.
Rubber joint by the steering box made longer to match body lift.
Transfer case and gearbox sticks made longer.
Diesel oil tank tubing for filling as well as oil hoses under the hood made longer to match body lift.
Body cut to match new fender flares.
Fender flares and aluminum side steps mounted. Rear fender flares cut in half and made 40mm longer to make space for the 44" tires.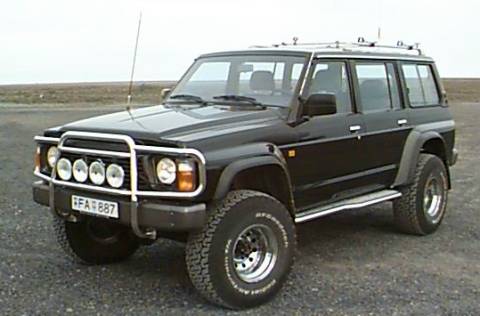 The "before" picture - 35 inch tires
Drive train
Added a doubler transmission case (extra low gear built from a Patrol transmission case by Jeppasmidjan). Removal of transmission case bar for front drive shaft and building a stick for the new doubler. Frame bar behind the transmission case has to me moved downwards.
Drive shafts modified for new location on the axle housing and because of the new doubler. Double joint added to the front drive shaft and the shaft made longer. Rear drive shaft shortened.
Ring and pinion changed with lower gearing ratios (5.42). ARB air-locker installed in the front axle.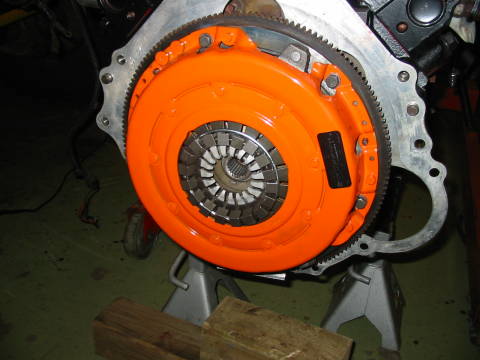 Engine
Intercooler installed in front of the radiator, intake manifold pipe joint moved to shorten path for intercooler hoses. Added oil flow to engine.
Turbine renewed. Comes in earlier than the original at 12-1400 rpm. Turbo pressure increased to 14psi with a special valve.
3" open exhaust system added.
Air filter allowing for more air flow added (K&N).
New three layer radiator added.
Belt driven air pump added. Chrome kangaroo bar in front serving double duty as air pressure tank.
65 and 88 liter extra oil tank with pumps to the main tank.
Other equipment and accessories
Auxiliary lights 100w, fog lights IPF 80w.
High lift jack sockets front and rear along with an extra long high lift jack.
Special valves in rims to air down and pump air in tires. All tires can be pumped concurrently with a special hose.
Luggage box on top, aluminum pinch bar, shovel, snow anchor and 8000lbs electric winch.
Aluminum storage box with compartments on the rear floor.
GPS navigation, lap top with the corresponding table, 300watt 220volt electrical converter for computer and other stuff.
NMT phone 15w, VHF and CB radios.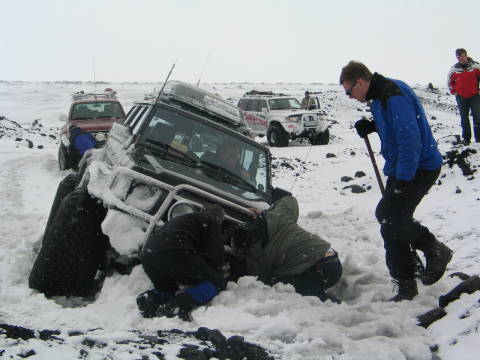 Used as it should be...
Projects on the drawing board
Engine swap is now in progress. More about that later...
By:
Oskar Erlingsson
Iceland
Translated by:
Thrandur
4x4OffRoads.com
Comments
comments
For more check out: