4x4 Offroad Tires!
 How to select the perfect 4x4 offroad tire?
Belief it or not, after the truck it self, the off road tires along with the appropriate wheels are the most important ingredient to a good usable 4x4!
You probably often hear people arguing about the "correct" off road tires for use. What size you should use, manufacturer, alloy or iron -
but the fact is no off road tire is perfect for all conditions. Although it is all debatable I will try and sort it all out for you. I am going to tell you how to select the best off road tires for your truck.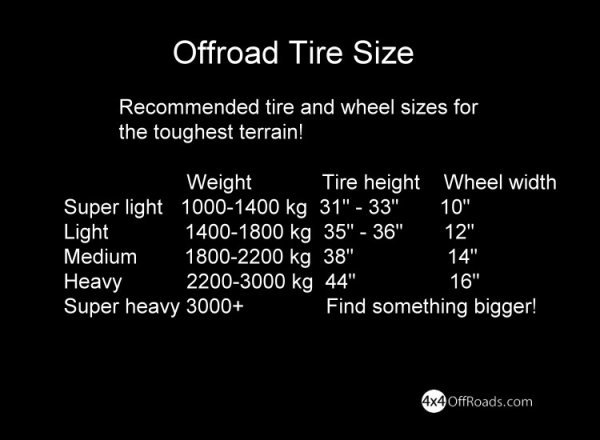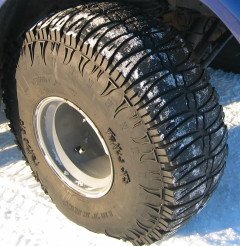 Off Road Tire Articles
4x4 Truck Tire Tech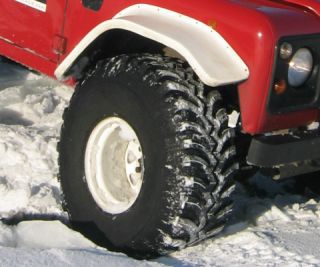 Tire Size Calculator helps in your decision making while planning modifications for your newest project.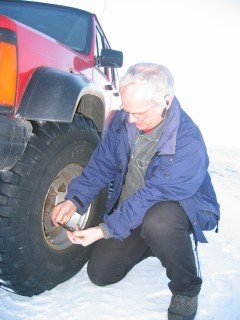 By airing down you enlarge the tire footprint the larger the tire the bigger footprint you gain!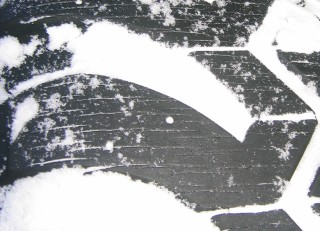 By tire siping you get added grip on slippery roads, a quieter ride and some say the tire will last longer
Off Road Tire Selection Considerations:
Tire size and loads carried
Tread pattern coarseness
Terrain and temperature variations
Traction
Tread and sidewall rubber compounds
Clearing of water, mud and ice
Flotation capabilities in soft underfoot conditions.
Tire wear
Off Road Tire Size
The first question you must ask yourself is which type of tire you want to use. There are both radial and diagonal. Always choose radial tires if they are available! Radial tires have better road traction, provide a softer ride and usually last a lot longer. Larger than 38 inch tires are usually only available as diagonal.
I am not sure if everybody knows this but a good tire size depends mostly on your vehicle weight!...
Size matters !
Weight
Tire height
Wheel width
Super light
1000-1400 kg
31" - 33"
10"
Light
1400-1800 kg
35" - 36"
12"
Medium
1800-2200 kg
38"
14"
Heavy
2200-3000 kg
44"
16"
Super heavy
3000+
Find something bigger!
These recommended tire and wheel sizes should be adequate for even the toughest terrain!
The larger tires are better to air-down. By airing-down you increase the grip and make the ride softer on rough terrain.
Off Road Tire Tread Patterns
The second question is which tire tread to use. Ignoring all "religious" issues is hard, but I will try to explain.
There are basically four types of tire tread to use for trucks and SUVs.

Street
These are intended mostly for highway use, so I will not describe them any further here!

All terrain
Provide a good balance between drivability on the highway and traction off roads. They are good to use in dry, powdery snow, also reasonably good on ice and in mud, but perform rather bad in wet snow.

Mud terrain
Give the best overall grip in sand, dirt, rocks and snow and reasonable grip in most other situations. They are especially good in wet snow and mud. They are however considered noisier than the finer treaded tires.

Special
There are various special tire treads like this Super Swamper Bogger. The Bogger is designed for heavy mud, but could prove usable in other situations.
For serious off-roading I would suggest you aim for the mud terrain type of tires since they give the best overall grip in sand, dirt, rocks and snow and reasonable grip in most other situations. Something like B F Goodrich Mud Terrain T/A, Buckshot Radial Mudder, Denman Ground Hawg and Mickey Thompsons Dick Cepek F-C Kevlar. For the 44" tire I would recommend the Mickey Thompsons Fun Country Nylon Belted.
Off Road Tire Traction
Terrain and temperature conditions can of course vary a whole lot. From the hot dry soft sand and solid stiff rocks in Sahara to the freezing arctic powdery snow or hard and slippery ice. Too hot and the tire might be ruined easily by too little air-pressure. Too cold and the rubber will come stiff and might crack.
Traction is important to continue momentum under all conditions. Loose it in a middle of a steep slope and you will know it! The off road wheel is responsible for upholding proper grip at all times.
Tread and sidewall rubber compounds are designed to perform under various conditions. Off road tires have different characteristics. Thinner sidewall means they are softer and have less material resistance with low air-pressure. Thinner sidewalls also usually mean less weight.
Clearing of water, mud of ice out of the tire tread is important to maintain enough traction.
Off Road Tire Flotation
Driving ON snow demands that tire distributes the vehicle weight over as big area as possible. This is called "floating". Same goes for other types of surfaces, like mud or sand, where you don't want to dig in too deep. Only problem there is that you don't get the cooling effect of the snow!
This should give you some ideas about which 4x4 wheels and tires to use!
Here is a list of the most recommended manufacturers of offroad tires and wheels:
Tires:
BFGoodrich Offroad Tires

Good offroad tires in sizes up to 37''. TheMudTerrain T/A and the AllTerrain T/A have proved very durable.

Denman Offroad Tire

The producers of Ground Hawg II Radial in sizes up to 38" and Ground Hawg Bias diagonal in sizes up to 44".
Mickey Thompson
The Dick Cepec F-C Kevlar uses Kevlar threads in stead of steel and is available in sizes up to 38". The Fun Country Nylon Beltedis a diagonal tire available in 44" diameter.

Parnelli Jones

The Parnelli Jones Dirt Grip is available in sizes up to 38".
Buckshot
The Radial Mudder has excellent track record in sizes up to 38", you can also get diagonal Mudders up to 44".
Pro Comp

Make offroad tires in sizes up to 37".

Interco
The makers of Super Swamper with radial tire sizes up to 38" and diagonal tires up to the 44"
TSL / Bogger.
Wheels:
| | |
| --- | --- |
| American Racing | Produce aluminum and steel wheels in sizes up to 15x10". |
| Tech One | The popular white spoke steel wheels in sizes up to 15x14". |
Comments
comments