Ford Explorer - Used 4x4 SUVs
A Ford Explorer has reasonable space and is built on a frame to make for easy modification. A four door Ford Explorer should do nicely for you if you have a family you want to take along. Beware of the AWD they are always the V8's!
Ford F-150 - Used 4x4 Trucks
The F-150 Crew Cab is big and comfortable. I could probably use the ARB air-lockers and ratios both front and rear. The 5.4 Liter, 260 HP Triton V8 cylinder engine gives it ample power and the standard equipment is extensive.
Used 4x4 trucks from Ford are plenty on eBay.
Chevrolet Tahoe - Used 4x4 SUVs
The Chevy Tahoe should be large enough for most people. It is a full size truck with a good strong engine. Although I have not seen many, modifying a Tahoe should prove relatively simple. The Z71 Off-roads package can be a good start!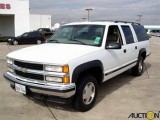 Chevrolet Suburban - Used 4x4 SUVs
The Chevy Suburban is the Tahoe's big brother. Although it is a bit too heavy for my purposes this is a capable truck, especially on 44 in. tires. The Tahoe and the Sub are both also available with a strong 6.5 Turbo Diesel engine.
Jeep Grand Cherokee - Used 4x4 SUVs
The Grand Cherokee builds on a legend. Even though it is extremely luxurious the Grand is still a true Jeep. The 4.0 Liter 6 cylinder engine and the stronger V8 combined with a light vehicle weight make this a power horse, ideal for modifications.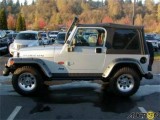 Jeep Wrangler - Used 4x4 Jeeps
Even though the TJ has only two doors the thought of an original Jeep is tickling. The Wrangler hasn't changed much since the World War II. The new Rubicon comes with all the goodies to make a strong off-roads truck.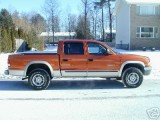 Dodge Dakota - Used 4x4 Quad Cab Trucks
One of the largest small truck the Dakota Quad Cab is roomy. With the 4.7 Liter Magnum engine should prove a nice choice for modifications.
I have not seen many modified Dakota's, so please send me your pictures and stories.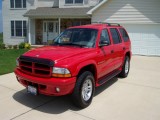 Dodge Durango - Used 4x4 SUVs
Truly a good looking truck. The Durango is a luxurious SUV with similar hardware as the Dakota and should prove as easy to modify.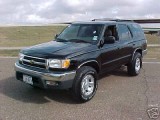 Toyota 4Runner - Used 4x4 SUVs
The 4Runner derived from the Hi-Lux pick-up truck. Strong, light weight and durable it provides the raw material for a good off-roads truck.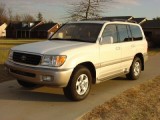 Toyota Land Cruiser - Used 4x4 SUVs
The Land Cruiser is big enough for most purposes and was first introduced as a civil modification of a military truck. The hardware is still similar. Even though the Land Cruiser is getting rather expensive it has proved popular for modifications.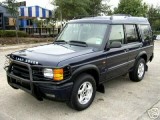 Land Rover - Discovery - Used 4x4 SUVs
The Discovery builds on the same suspension system as the original Range Rover. The Discovery can seat up to seven people and is available with a diesel engine at least in Europe.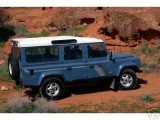 Land Rover - Defender - Used 4x4 SUVs
A classic doesn't have to change much! The newest look just like this one from 1987 and they also look almost like my fathers old 1967 model. The suspension system has been improved by similar means as the Discovery.