Offroad Eiríksjökull
May 13 2006
Primary purpose of going offroad is often to experience nature close up. Whether it is taking a hike or going skiing or mountain biking. Eirkisjokull is high at 1675 meters surrounded by cliffs and steep slopes at all sides. Only once has there been an attempt at getting a 4x4 up.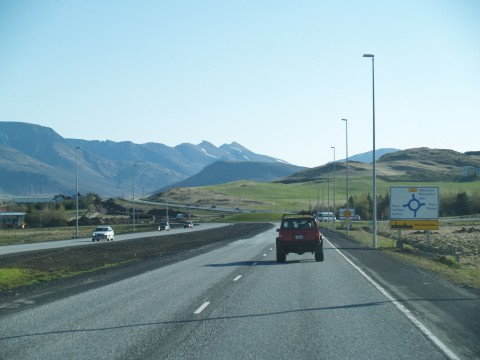 This is one of these bright and sunny May days. Not a cloud to be seen. Einar and me along with the passangers Issi and Biggi are heading out of town towards the mountains. Our route lies first to Thingvellir.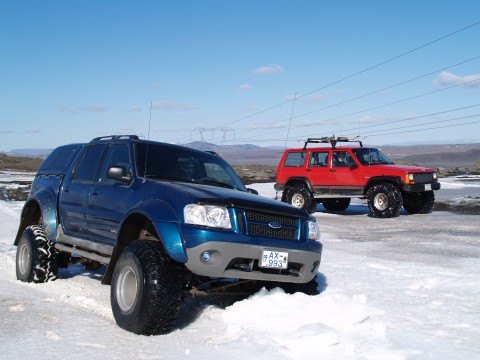 On the track by the electric cables north of Skjaldbreidur first patches of snow get in our way. It is fast melting and has puddles of water under it. This calls for decreasing the tire air pressure to about 4 psi for my Sport Trac. Einar on the considerably lighter Cherokke gets by with 7 psi or so.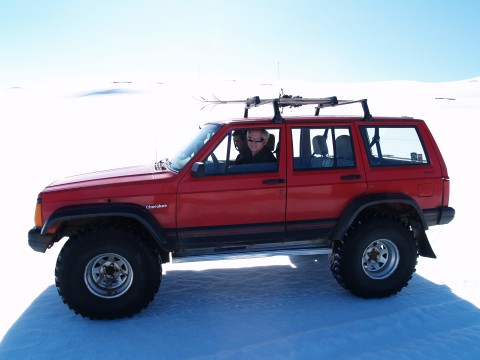 As we head for Langjokull it is obvious that the conditions are amazing. Tires are hardly marking the surface and we are easily able to get up to 90 km/h (60 mph). This is FUN!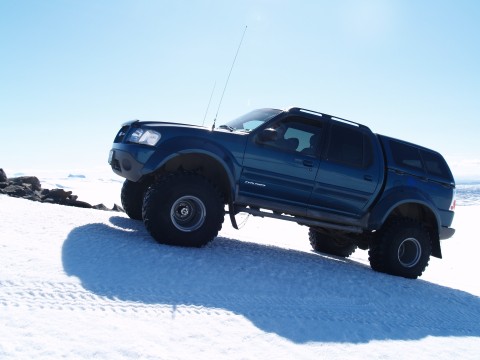 4x4 Off Roads!
The view is fantastic and with no wind this is going to be a great day.
Having just installed the truck cap I find it much better to access things on the trunk.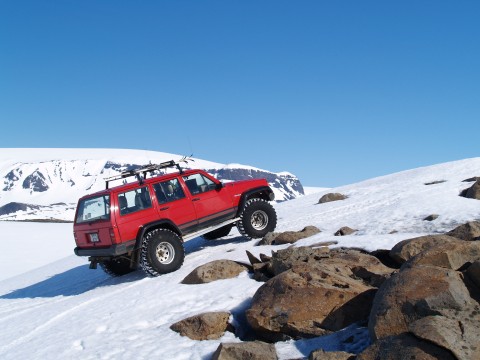 View to Thorisjokull.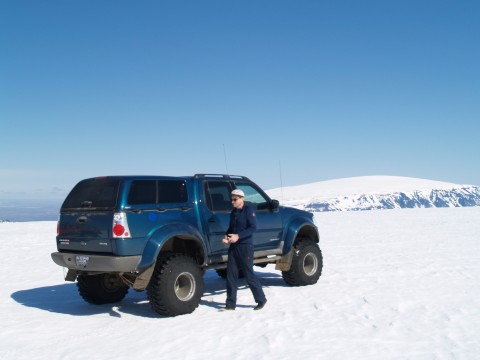 As we take the scenic route over Langjokull we get to see Eiriksjokull from the south side. Langjokull is about 1200-1400 meters - much lower than Eiriksjokull.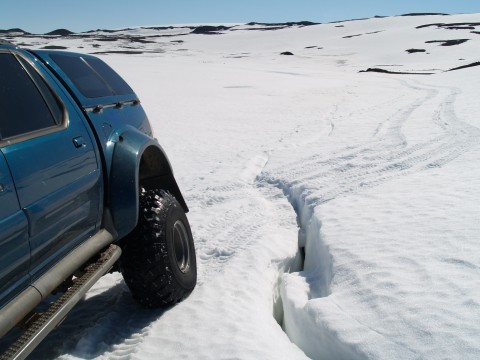 At the pass between Langjokull and Eiriksjokull we must tread lightly to stay safe from an underlying lake.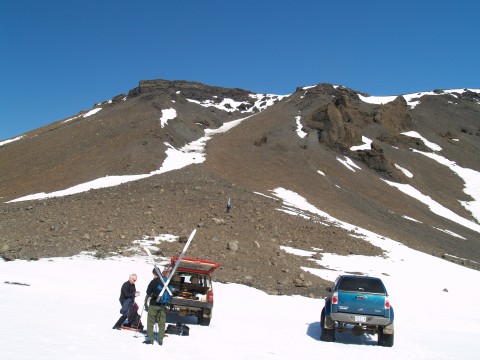 Our intention is to hike up this steep slope where we can find a way without cliffs. This place looks like it is possible to get up safely.
Here we leave the trucks and hook the skis on the rucksacks. This is a lot steeper than it looks on the photo.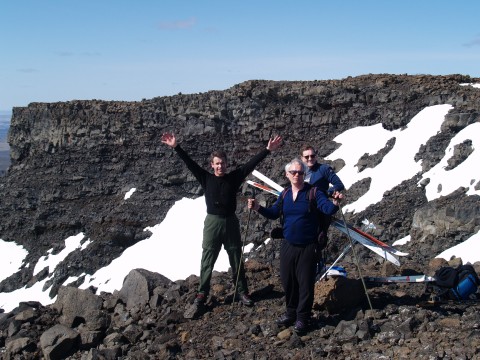 Biggi, Einar and Issi in the back are glad to be up.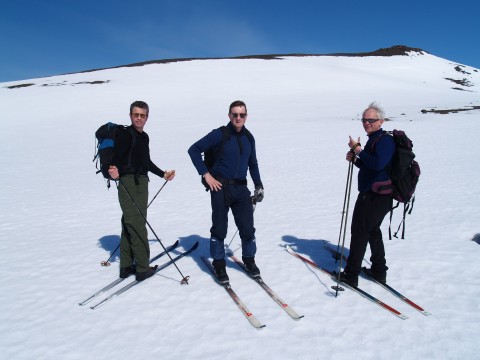 After a little more easy hiking we reach the continuous snow and put the skis on. Einar lends me a pair he has. This is going to be a long walk and I am no expert in skiing! Constantly going uphill I have skins under the skis to make it easier to get up the slopes.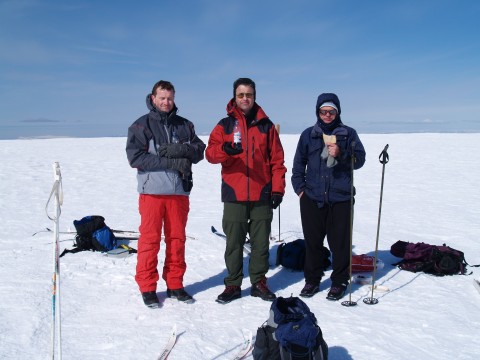 The top of Eiriksjokull is almost completely flat. This is as close to it as we could estimate with view in all directions. Without the physical movement of skiing and a cold breeze coming in from the north demands that we add extra layers of warm and windproof clothing. This is also an excellent time to eat our snacks and make a toast in diet Pepsi like Biggi is doing.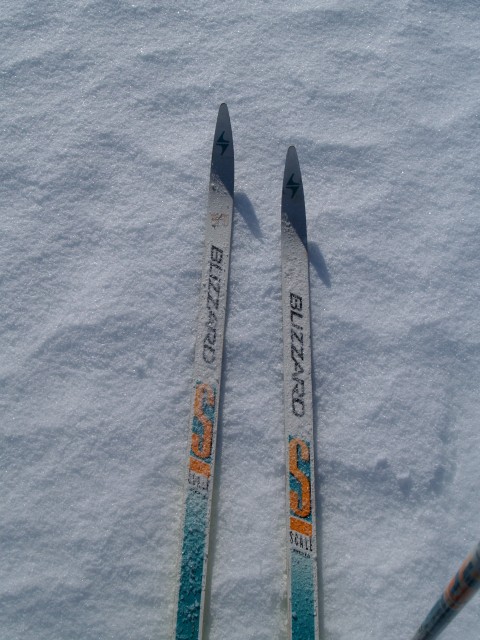 The Blizzard skis I used. The others had skis with steel linings on the sides but these don't. Add to that the fact that I am not a good skier and you can see I had a hard time getting down.
After almost 20 km of walking I had blisters on my heals. Might as well call this tour "Blisters on Blizzards".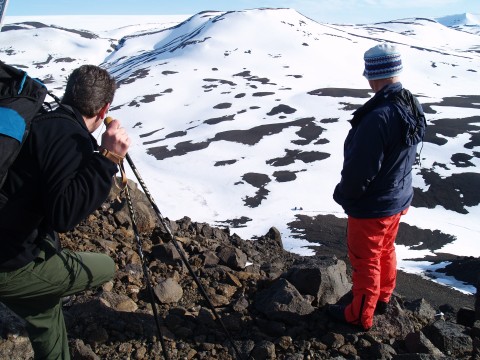 At the edge again and now looking down. Those tiny little dots in the center are our trucks. You can better see how steep the mountain side is from this angle.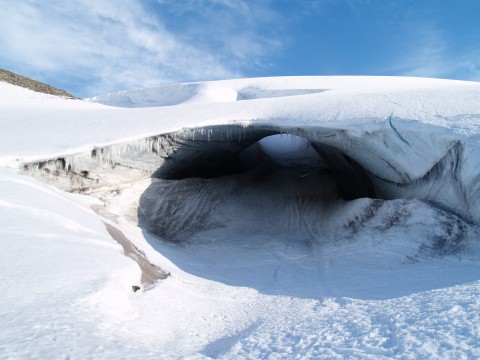 Naturally we visit the ice-caves in Langjokull since they are close by and on our route back.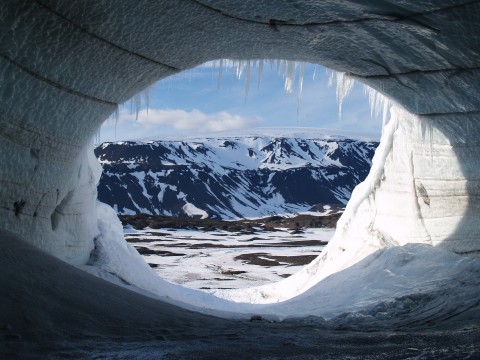 Here you see Eiriksjokull through the opening of one of the ice-caves.
A long day is coming to an end and I have reached the goal of climbing Eiriksjokull.
Comments
comments